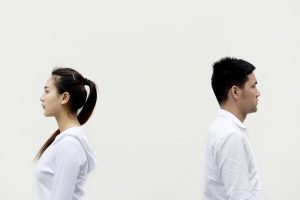 You made vows before the Lord. You promised to be with this person through sickness and in health, good or bad times. Right now, those vows feel impossible to honor. The marriage is so problematic, you think it is impossible to fix. You re tired of fighting, or there is too much bad history to overcome, or you just don't want to be in the marriage. You've grown apart.
I'm not saying those feelings aren't real. Or that people don't get to a very discouraged point and think divorce is the only way out. I'm saying, believe for a miracle and allow God the opportunity to change you, your spouse and your marriage. What often happens is that we don't include God in our hurt or sense of betrayal. The missing piece is often our reluctance to fix our relationship with God—the very thing that will help turn around our marriage. And we need to do this together.
I could tell you numerous stories of couples who appeared hopeless. Even as their therapist, I confess, I didn't have the faith for them to fix their marriages-some have lived through dramatic life events and circumstances, others are wounded and hurt over past disappointments and rejections, and others are deceived by the lie that nothing will make a difference. Truth is, we can't deal with an impossible marriage alone—we need God to rule in our hearts and minds. But let's not succumb to the lie, It's too late, It's not working so let's call it quits. It would take a miracle for this marriage to work. I have good news. Our God is in the business of miracles.
We need to remember who the real enemy is—behind all the very real issues a couple faces is an enemy whose chief purpose is to steal, kill and destroy your marriage. It's a force of darkness and is real—not something imagined for the movies. The enemy of our souls operates in a spiritual realm, an invisible world that exists all around you. You can't fight in your flesh, an enemy that is spiritual.
So pray. Line up your thinking with God's thinking. Get your behavior in line with godly behavior and fill yourself with the Word of God and His promises. Say them, rehearse them and claim those promises as yours. They are yours if you are a child of God. Confessing what God says about you and your situation brings new hope, starts the process. Renew your mind—Greater is he that is in me, than he that is in the world. Take your rightful authority over the spiritual roots of problems. Walk the floors and pray. Rehearse God's track record over impossible situations and be patient.
We know that if we confess our sins, Jesus is faithful to forgive us. So confess first to God, then to your spouse. And deal with forgiveness. Once forgiven, you still may have to deal with the fall out of that sin, but accept God's forgiveness. Too often I see people continuing to accuse themselves and feel they have let down their partner too much. But the accuser is the devil (Revelation 12:10), so once you have confessed and forgiven, couples need to move forward in that forgiveness, dealing with the consequences of sin. That might mean going to a Christian couples' therapist for guidance. It also means you stop sinning and make a turn in behavior in order to build trust again.
Scrripture tells us to not grow weary in doing good. To not give up if an answer isn't immediate, to wait on the Lord and believe he is a present help in times of trouble. The road to divorce begins in our mind and heart, as well as our behavior. If you stay intimately connected to God, your marriage will reflect that intimacy.
Bringing an impossible marriage back to life requires both parties to open their hearts to the God of the possible. If you surrender your life completely to God, give and receive forgiveness, work to change behavior—a marriage can change and be revived. With God, all things are possible.