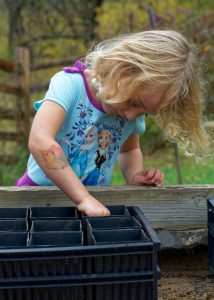 Newsweek online recently posted an article entitled, Age 5 is too late: Public schools must focus on early learning. The author pleaded for education reform. She said a "coordinated curriculum between both the early childhood education program and the elementary school program is crucial; thus, creating a public school system beginning at the age of 2, or at the latest, age 3." She then defended her position with brain research, informing us that the optimal window of learning is ages 0-5 for a child. The quality of care during that time sets the stage for later learning. I would agree that the brain is forming new connections and learning daily.
I disagree, however, in terms of where that learning should take place. The author wants kids in public education during those early years. Send them to a preschool where their minds can be stimulated. But what about early childhood education in the home?
A two-year-old does not need to go to a public school to bridge the learning gap. Three-year-olds don't need to start reading or writing their name. Children can learn at home with parent interaction, while developing a strong attachment to their parents. A secure attachment also sets the stage for learning. When the home is a safe place with a caring parent who loves on their child, learning takes place.
I was my children's early childhood teacher. I rearranged my career to do this, sacrificed income and did what I needed to do to be there during this critical developmental time. I'm not a saint, nor an elite. I did have a working husband, so yes, I could stay home and change shifts with him for a few hours of night work. For income, I worked when my kids napped or went to bed. It wasn't ideal for my career, but their needs during this critical period of development were more important.
My classroom was parks, playgrounds, field trips and nature walks. We would swing, run, look at exotic bugs and plants. I was teaching, creating curiosity, and providing active learning by doing. There was no classroom structure–just the exploration of new things and new experiences. And during that process, I was imparting my values.
I am perfectly aware that some parents have to work to survive, but maybe this is where we should rethink how to support families -find ways to keep parents and children together during this critical development period. It would strengthen attachment. I don't believe sending a two-year-old to a public school can do that.
To learn, a child needs a sense of security and a home base that provides safety. This is where we need to put our efforts in early childhood development. What can we do to support parents who need to work, who are stressed, whose family problems are causing instability and chaos in the home? How can we strengthen the parent-child attachment in order to prevent future problems?
Rather than send a two-year-old off to a public school, I would rather find ways to keep that child in the home of a nurturing parent who can teach through relationship. That would be a program to get behind.