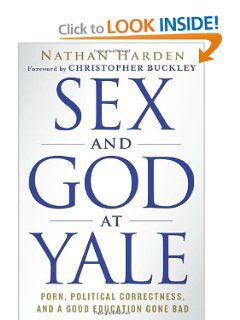 I watched an interview on the 700 Club with Nathan Harden, a 2009 graduate of Yale University. What he shared broke my heart and it will yours too!
I advise you to watch it. It will open your eyes!
Harden, author of Sex and God at Yale: Porn, Political Correctness, and a Good Education Gone Bad, presented what I would call a wake-up call for all parents who have young adults at elite colleges or are planning to send them to those institutions.
Shocking to most of us, is SEX WEEK at Yale. Officially run by students, sponsored by the porn industry and sanctioned by the University as "sex education," sex week include activities held on campus and in classrooms.
During Sex Week, porn stars provide graphic demonstrations on oral sex, violent sado-masochism acts, and other sexual practices. Sex industry CEOs are invited on campus for a marathon of sex-relatd film screenings, seminars and product demonstrations. Other elite schools like Harvard, Brown, Duke and Northwestern have also followed suit.
So imagine parents, your tuition dollars are funding classes that teach your daughter how to be a prostitute and give oral sex to strange men. At Yale, your son can watch a live demonstration by a topless porn star on all kinds of deviant sexual acts. And women, you are the target of violent sex and sadistic pleasure and are supposed to think of this as sexually liberating. Objectifiying or devaluing you as a person, well, it's only entertainment. I feel violated just saying this.
I am personally outraged, offended and shocked that ANY higher education would allow such degrading, objectifying, and morally corrupt behavior to even be present on its campus.
Would Yale also like to fund the millions that will be spent on sexual addiction problems, broken marriages and ruined lives that will result from believing the lies that are being presented as acceptable behavior. The fall out from hypersexualizing people has been well-documented. Sex addicts and sexually violent offenders continue to be on the rise, resulting in the loss of lives, epidemic diseases, legal costs and disturbed people who need mental health treatment. Reducing people to sexual urges, encouraging sexual pleasure at any cost, is hardly the character development we want our kids to experience.
Every alumni should protest and stop sending money.
Every parent should storm the once sacred halls and demand an end to such offensive activities.
Every parent should seriously consider NOT sending their students to these type of schools. What kind of education are you paying for–you deserve to know since you fund this.
Every Christian should intercede for the students, faculty and administrators of these institutions.
This is pathetic, disgusting and one of the reasons I sent my Salutatorian to a Christian College. Higher education is supposed to be a place of learning with academic standards. Instead we have the loss of moral leadership, women devalued and both genders led to believe that hypersexualism is normal and desired.
Sadly, Yale has lost its way.
"Hats off to Nathan Harden for exposing the shameful truth about how some of our nation's finest universities have allowed themselves to become cesspools of perversion. Instead of teaching young people moral values and principles, "progressive" faculty and administrators actively promote moral degeneracy and perversion among the leaders of tomorrow."
—Carol Swain, PhD, Professor of Political Science & Professor of Law at Vanderbilt University