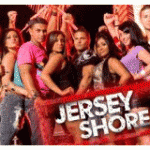 I finally watched an episode of the Jersey Shore. Figured it was time I knew who Snooki and the Situation were since I have seen them all over the television screen handing out awards, dancing with stars and being interviewed. I wanted to know why these people are household names and creating such a stir.
I watched. I almost fell asleep. I totally don't get it.
The episode I saw was about the gang in Italy. I was embarrassed as an American. They gave new meaning to the "ugly American" persona. Snooki was actually yelling at people to stop talking to her because she doesn't understand Italian.
Hello! You are in Italy. Do you really think the natives should accommodate your ignorance? Apparently! Maybe that's the charm? Help me people!
The hour was filled with lots of partying, drinking and sex. From a TV viewing stance, I was bored and found these people uninteresting. I know I'm not the target audience but I am still fascinated with why this program is a hit. So I looked it up. Here's what I found on EW.com
Jersey show …
creates its own world. (True enough!)
is a sitcom (I never laughed!)
has what people want (This is a scary thought!)
makes people happy (Please get into therapy if this is true!)
And apparently the show has spiked interest in tanning salons (See my article on Tanorexia).
So there you go. I still don't get it.