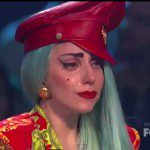 My daughter is a dancer so for years we have watched So You Think You Can Dance.
Last week, was Ga Ga week. As a judge, I found her incredibly affirming to the dancers. But one performance brought out a side of this controversial pop sensation that led me to prayer.
Contestant Marko German and all star Allison Holker danced a Sonja Tayeh choreographed number to music by the late Jeff Buckley. The song was entitled, I Know Its Over. It is basically a song about feeling guilty about hurting others and wanting to change. It was danced to perfection but something happened that went beyond the dancing.
Lady GaGa was so moved that she cried and could hardly speak. The song touched something from her youth. When she finally composed herself, she shared a moment of vulnerability, "There were so many things I did wrong when I was younger and so many things I wish I could take back. I felt every moment of that in your dance tonight."
Marko was crying too and made an apology for his past actions as a kid to his mom who flew in from Guam to see him dance. Tears were flowing, people were moved.
It was a rare, honest moment on TV.
As I watched, I felt the incredible urge to pray for these people. The display of vulnerability was a small sign of deep wounds that must still be felt. Behind all the costumes, the make-up and the over the top antics, I saw a wounded woman who needs the unconditional love of God. I wanted to reach out and hug her and say, "It doesn't matter. A forgiving God can heal all those hurt places."
So I prayed that somehow, some where Lady GaGa would find healing from those hurts and know how much God loves her. That one day she and Marko would experience Revelation 7:16, "For the Lamb at the center of the throne will be their shepherd; he will lead them to springs of living water. And God will wipe away every tear from their eyes."