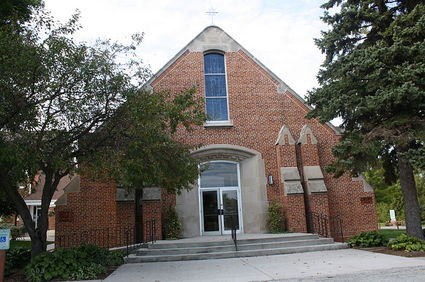 For the first time ever, a Marian apparition in the United States has received formal approval.
Bishop David Ricken announced today that he officially approves the Marian apparitions at the Shrine of Our Lady of Good Help at Champion.

The announcement was made during a special Mass for the Feast of the Immaculate Conception at the Shrine of Our Lady of Good Help at Champion.

Reading from his decree, the Bishop stated, "I declare with moral certainty and in accord with the norms of the Church that the events, apparitions and locutions given to Adele Brise in October of 1859 do exhibit the substance of supernatural character, and I do hereby approve these apparitions as worthy of belief (although not obligatory) by the Christian faithful."

Today's declaration makes Our Lady of Good Help at Champion the first and only site in the United States of an approved apparition of the Blessed Virgin Mary.

October 1859, the Blessed Virgin Mary appeared on three occasions to Adele Brise, a young Belgian immigrant. Brise stated that a lady dressed in dazzling white appeared to her and claimed to be the "Queen of Heaven who prays for the conversion of sinners."

The Lady asked Brise to pray for sinners, as well as to gather the children and teach them what they should know for salvation. The Blessed Virgin followed the commands with these words of assurance to Adele Brise, "Go and fear nothing, I will help you."

Since 1859, countless faithful have made the pilgrimage to Champion, Wisconsin to offer prayers of thanksgiving and petition to Jesus and to ask for intercession from Our Lady of Good Help.
And that's just the beginning. Read the rest. And visit the website for the shrine.
Our Lady of Good Help, pray for us!