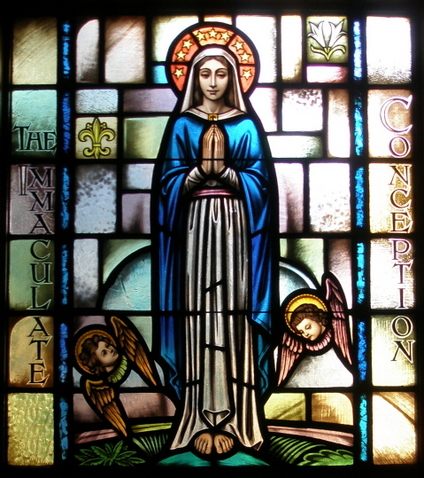 Last Sunday, I had the great privilege of celebrating the sacrament of baptism here in the church – baptizing 12 babies. Before the service, I was chatting with a couple of women. They were friends of one of the families and they had never been to this church before. They couldn't get over the stained glass windows, and one of the women asked me if they were done by Tiffany.
I laughed and told them no.
Well, one of the women said, "We're Jewish, from up in Orange County, and we just don't have anything like these. They're just magnificent."
Well, she's right. They are magnificent. But she was wrong about something else. The Jewish people do have something as beautiful as these windows – in fact, we share with them something even more wondrous.
I'm speaking of Mary – the Jewish peasant girl whose feast we celebrate today.
No window here can compare to Mary, who served as God's window into the world.
Thomas Merton put it perfectly.
"Mary", he wrote "was as pure as the glass of a very clean window that has no other function than to admit the light of the sun." And he explained: "If we rejoice in that light, we implicitly praise the cleanness of the window."
I can't think of a more beautiful way of considering Mary on this feast of the Immaculate Conception. Looking around this church, named for our Blessed Mother, we see the light these windows cast, the ever-changing colors, and we see, too, the ever-deepening reminders of Mary's devotion. The golden light of a mother's love…the blue of her sorrow…the red of her son's own passion. But through it all there is light. Radiant, limitless, streaming light.
The light of the world.
And Mary is the window through which that light shines.
This feast is one of the more misunderstood in the Church – a lot of people think that because it is close to Christmas, it must be about the conception of Jesus. But no. It marks Mary being conceived in her own mother's womb – conceived without original sin, spotless, immaculate, so that she could one day welcome into her own womb the son of God.
Beyond biology, though, there is a wonderful symmetry in this feast falling during Advent.
Just last Sunday, we heard John the Baptist crying out in the desert, "Prepare the way of the Lord!"
And that is exactly what God did with the Immaculate Conception of Mary.
This moment, her creation in her mother's womb, is God's own Advent – the Father preparing the way for His son by preparing a perfect vessel, Mary, to bring His son into an imperfect world.
God really is "preparing the way of the Lord."
And how does Mary herself prepare? What is her Advent?
When Gabriel announces his incredible news in Luke's gospel, her reaction isn't just meek submission. She doubts. She questions. She challenges the angel. And only when her curiosity is satisfied does she give her assent.
"May it be done to me according to your word."
Mary's Advent is one of wonder – and extraordinary trust.
All of us in one way or another, at one time or another, feel the confusion and even fear that Mary must have felt. That phone call we didn't want, the letter we never expected, the diagnosis no test could predict. Faced with that, we challenge God, and demand answers.
But it all comes down to one phrase – the one that, I think, convinces Mary and that changes the course of history.
"Nothing is impossible with God."
All arguments after that are fruitless. Doubt vanishes. Reason submits. Faith surrenders. There is simply nothing else to be said.
Here in Advent, we gaze out at the darkening skies. We are almost at the moment when our hemisphere is furthest from the sun.
But along comes Mary. The curtains are drawn back. The light pours in. Pure, perfect light.
We may wonder and we may doubt. We may be apprehensive about what lies ahead. But Mary, in her simple perfection, offers us something more than purity, more than saintliness. In our own confused time – like that window letting in the light – she offers us clarity – the clarity of an angel's assurance to a worried young girl. It is an assurance to our own worried world.
Nothing is impossible with God.
This Advent, may all of us hold onto that – and as Christmas nears, may all of us truly see the light.