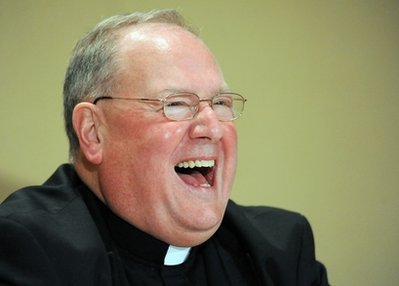 In Dolan, the bishops have turned to their most gifted natural communicator, a leader with a demonstrated capacity to project a positive image for Catholicism in the public square. Rather than electing a behind-the-scenes broker of compromise, in other words, the bishops tapped their best front man. That choice could be taken as an imminently rational reaction to recent events…

…In many ways, Dolan is a high-octane, populist American expression of what I've called the "affirmative orthodoxy" of Benedict XVI: no compromise on matters of Catholic identity, but a determination to express that identity in the most positive key possible, keeping lines of conversation open with people outside the fold.
Allen acknowledges that he wasn't there for the Big Event yesterday. But someone who was there offered his analysis on "Currents" last night. Check out Rocco Palmo's take here.
There were also a few warm words offered on the show from Miami Archbishop Thomas Wenski. Check 'em out.