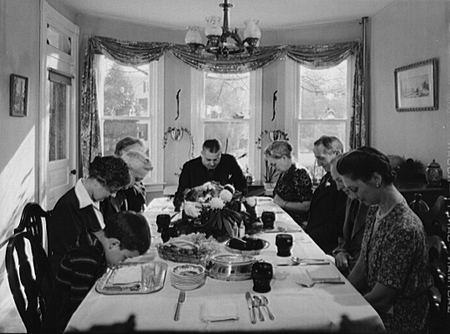 Sometimes thankfulness can be hard to express.
Most of us know someone who is having a difficult time this Thanksgiving. The woman who is spending her first holiday as a widow. The father who lost his job and is worried about where he will find Christmas gifts for his children. Those friends and neighbors who are hurting or alone.
Where are the blessings for these and others who are feeling, in a particular way, burdened, afflicted, cursed?
The simple, indisputable fact is this: every breath is a blessing. Every sunrise. Every snowfall. "Bless the God of all," Sirach exclaims, "who has done wondrous things on earth." Incredibly, we are part of that wonder, part of God's continuing creation in the world. And what a blessing to be able to say that!
The German mystic and philosopher, Meister Eckhert, once wrote: "If the only prayer you ever say in your whole life is 'thank you,' that will suffice."
That is why we are here: to pray those words, and to make them matter.
So taking a cue from Meister Eckhert, let's make this something more than a holiday, more than an excuse to have a second slice of pie and take a long nap in front of the television.
Make this very day a kind of prayer. Beginning here, and now.
As the day unfolds, carry that prayer with you. Live it. Give it. This is, after all, a day for giving — giving thanks. It doesn't have to end when you say grace over the turkey. In fact, it doesn't have to end tonight — God's gifts certainly won't. Every beat of your heart affirms an unmistakable mystery: God has given you life. Extravagant, wonderful, painful, challenging life.