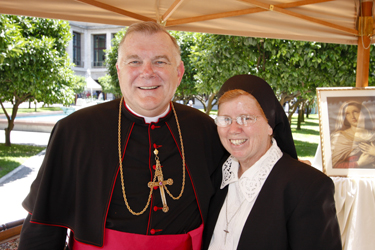 A tweet from a certain blogger suggested as much. Check out this profile of the woman who is, the COO of the Miami Church:
Doing one thing at a time does not seem to be part of God's plan for Sister Elizabeth Worley.

A few years into her teaching career as a Sister of St. Joseph, the Jacksonville native went back to school to get a degree in chemistry.

"I did sophomore, junior and senior chemistry courses in one year simultaneously," recalled Sister Worley, who got her degree from Barry University in 1973.

A decade later, when she was asked to join the board of directors of Mercy Hospital in Miami, which is sponsored by her community, she decided to go back to school for a master's degree in business administration.

She began the two-and-a-half year program while teaching chemistry at Hollywood's Madonna High School and completed it while serving as chair of Mercy's board — and still graduated as valedictorian of her class at the University of Miami. The salutatorian, she says, likes to tell people that he graduated "second to nun."

Nearly 20 years later, Sister Worley was again doing two jobs at once: Finishing up her 19-year stint as chair of Mercy's board and beginning a two-year stretch as chief executive officer of Catholic Hospice.

She was still with hospice when Bishop Thomas Wenski called from Orlando and asked her to serve as his chancellor for administration and chief operating officer. She started the job in February 2007 but remained with hospice until a new chief operating officer was appointed.

"The turnpike and I were old friends," she said, recalling how she went back and forth between Miami and Orlando "every other week."

The intrastate commute continued this summer. On July 15, Archbishop Wenski announced her appointment as chancellor for administration and chief operating officer for the Archdiocese of Miami — but her duties in Orlando ended Sept. 30.

"I tended to do this in my lifetime," she said. "God calls. You answer. Literally, it just keeps coming. There's a need. You respond to the need. It's service of Church. It's obedience."
Read the rest. Impressive gal. Very impressive.