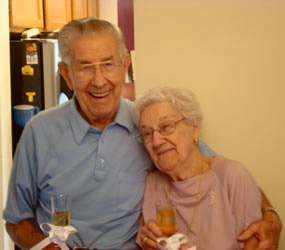 This couple can tell you.
You don't see many stories like this — and it's truly something to celebrate. From the Catholic Review in Baltimore:
Edwin Becker was 19 when he decided that he couldn't live his life without Gertrude. At 17, Gertrude just knew she wanted to be with him. So, on Sept. 7, 1935, the couple married at Holy Rosary Parish in Fells Point.

Seventy-five years later, the couple still doesn't know what they'd do without one another.

"Where you see him," Gertrude said, "you'll see me, and where you see me, you'll see him."

Neither envisioned such a long life together, but two children, eight grandchildren, 13 great-grandchildren and 10 great-great grandchildren later, they are a testimony to love, faith and friendship.

The secret to their relationship?

"Keeping busy was the main thing," Edwin offered.

He'll turn 95 next February. Gertrude turned 93 recently.

Although they attended the parish school at Sacred Heart of Jesus in Highlandtown and were just two years apart, they didn't know one another as children. Edwin lived in Highlandtown; Gertrude was a Canton girl.

It wasn't until Edwin was invited to a nearby party, hosted by Gertrude's relatives, that their paths crossed. At the party, boys washed the faces of girls with watermelons. Edwin picked Gertrude.

"He washed my face with watermelon," Gertrude said laughing, "and I think that was the beginning of it. That was a different time."
Congratulations, Edwin and Gertrude!