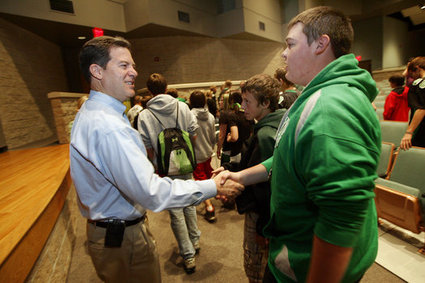 After 16 years in Congress (including a failed run for the White House), Kansas Republican Senator Sam Brownback is running for governor of Kansas. The Kansas City Star has a lengthy look at his life, which included converting to Catholicism a few years ago:
Brownback's faith endears him to his conservative base and frightens some of his liberal critics. He makes no apologies.

"I want to make it to heaven and be as good an influence on others as I can in that process," he says.

Raised Methodist, Brownback turned evangelical before converting to Catholicism in 2002 under the guidance of John McCloskey, a priest affiliated with the conservative Opus Dei organization.

Reading the Bible is a daily habit. Brownback also likes to read older religious thinkers. The third and fourth century Desert Fathers are a favorite. They were a group of early Christian monks who retreated to the Sahara to get closer to God.

One "spent 40 years in a cave and then wrote about his mental struggles," Brownback says. "I'll read anything by a guy who spent 40 years in a cave. It is a fabulous set of thoughts about what goes on in the mind."

Democrats, however, cite a few controversial aspects of Brownback's faith, what one Holland campaign staffer called his "weird factor."

In Washington he once lived at the C Street home operated by the Fellowship, an obscure religious group with strong ties to Washington insiders.

He also worked with Kansas City-based preacher Lou Engle. Engle has called on Christians to pray for "God, the avenger of blood" to heal the "sins" of abortion and homosexuality. Brownback appeared at a 2007 Engle rally and briefly lived with Engle in a District of Columbia apartment after his own apartment burned.

Since then, however, Brownback says he disagrees with much of what Engle says.

Many Democrats worry a Brownback administration will push aggressive anti-abortion legislation while gutting public education and environmental and business regulations.

But Brownback insists moderate and liberal voters have nothing to fear.

"I am pro life. I will sign pro life bills," he acknowledged. "But what people are interested in is what we can do to create jobs, grow the economy and keep our costs under control."
Read the rest at the link.