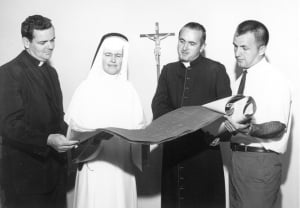 In the early 1950s, some of the most important mission work in the Church was happening in a place many of us might find surprising: Florida.
Back then, the total number of Catholics in Florida came to just 70-thousand. That's not in one diocese, or in one city. That's the entire state.
Sixty years later, this Sunday morning, it's over five million.
But in the '50s, Florida was a wasteland for Roman Catholics. The small, struggling church down there was desperate for priests, and it sent out a call around the country, asking for help.
One man who decided to answer that call was young priest from Boston named John Scully. He'd been ordained in 1948. It's hard to believe now, but back then there were nearly 2,000 priests in Boston – both religious and diocesan. I imagine that it was easy to get lost in the crowd.
So in 1953, wanting to be a pioneer, Fr. John Scully moved south, settled in Tampa, and set to work.
To say he was kept busy would be an understatement. Over the next 50 years, he became the founding pastor of eight parishes in Tampa – including two named for his parents. He directed the diocesan office for the Society of the Propagation of the Faith. He was rector at the St. Petersburg Cathedral. He helped start schools. He used his vacation time to take trips to Africa, where he founded a parish in Nairobi Kenya and learned two languages, including Swahili, so he could celebrate mass and baptize and hear confession in their native language.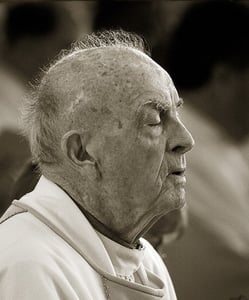 Eventually, he became a monsignor, one of only a handful in his diocese. But age and health problems eventually caught up with him, and he retired. But even in retirement, he continued to work, helping at one busy parish with 14,000 members. He earned a reputation for being especially tough in the confessional – but people would wait in line to let him hear their confession, and sometimes have him yell at them. "He was big on the 10 commandments," a parishioner said, "and people loved that." When he was 78, he offered to help start another parish. In his 80s, even though he had to use a walker to get around, he talked about starting a door-to-door ministry.
He was tireless. And relentless. But at the bottom of it all was this:
John Scully just loved being a priest.
Last week, he was doing the very thing he loved, celebrating morning mass at St. Stephen's parish outside Tampa. During the Eucharistic prayer, he collapsed. Efforts to revive him were unsuccessful. Monsignor John Scully died saying the greatest prayer on earth: the mass. As another priest put it: "He died with his boots on."
John Scully was 86 years old. He had been a priest for 62 years.
At his funeral, Bishop Robert Lynch gazed out at the dozens and dozens of priests who were there. And he took the measure of the man. He said: because of all the work Monsignor Scully had done in Boston and Tampa and Kenya, across six decades, "he probably has baptized, absolved, confirmed and married more Catholics in his life than most of us combined."
And John Scully did that because he loved being a priest.
This World Priest Day we pause to remember all the priests like John Scully who love what they do. Men like Msgr. Funaro…Fr. Passenant…Fr. Jan. And there are so many more, whose names we don't know, who quietly go about their jobs, doing the most extraordinary work in the world.
The work of bringing us Jesus.
In today's gospel, we hear the story of a little man named Zacchaeus, struggling to see Christ.
Well, in one way or another, we are all Zacchaeus- too small to see, searching out Christ, straining to catch some glimpse of him. Like Zacchaeus, our view is often blocked by those around us. Yet, very often, it is the priests who help us to see Jesus. They enable us to experience his presence in the sacraments, to know him in the breaking of the bread, to encounter him in the waters of baptism, or the oils of anointing, or the quiet, blessed mercy of the confessional.
And they show him to us, literally, at the moment of consecration – as our eyes are drawn upward to the host in their hands: God in a piece of bread.
Priests make it possible for us to see God – and to receive Him – every day.
They do all this and more, feeding a hunger we may not even be able to name.
Surveys have shown that job satisfaction for priests is especially high – an overwhelming majority are happy in what they do. All this, despite the fact that their job has only gotten harder. I can tell you from personal experience: these days most of the world looks at clergy the way they look at journalists.
And yet. There is in the heart of the priesthood something both heroic, and holy. In a culture that increasingly says it doesn't need God, priests stand before us and say: No. There is another way. Let me bring Him to you. Let me show Him to you. Let me help you do something daring. Let me help you dare to believe, dare to trust, dare to hope.
And somehow, in the middle of a world crowded by fear and suspicion, uncertainty and hate, they do that.
They bring us grace.
They bring us Jesus.
That is it. In all its simplicity, and all its beauty.
This morning, we take a moment to say what we so often forget to say, words that somehow seem so inadequate: thank you.
And I can't say it any better than St. Paul from today's letter to the Thessalonians. To our priests, I think this speaks for us all:
We always pray for you,
that our God may make you worthy of his calling
and powerfully bring to fulfillment every good purpose
and every effort of faith,
that the name of our Lord Jesus may be glorified in you,
and you in him,
in accord with the grace of our God and Lord Jesus Christ.
[Top image: Msgr. John Scully, second from right,looks over blueprints for a Catholic high school in 1964. Lower image: Msgr. Scully at this year's Chrism Mass. H/T to Rocco.]