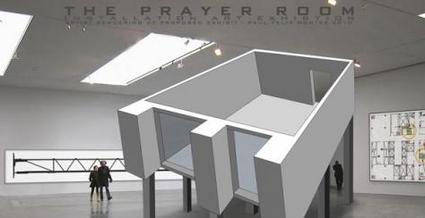 The above rendering will evidently recreate the areas Muslims used for prayer in the World Trade Center.
In an interview with Art Threat, Las Vegas-based artist Paul-Felix Montez wants to create a downtown exhibit that addresses the experience of 'finding one's place…in American society,' especially common among immigrants. '

The Prayer Room' exhibit, inspired by the Muslims who worked in the World Trade Center towers, is being planned for the 10th anniversary of 9/11.

The exhibit will be based upon two Muslim prayer spaces – one being the stairwell on the 163rd floor and the other on the 17th floor South Tower room – which Montez plans to recreate to at least an 80% scale.
Check out the link for more.