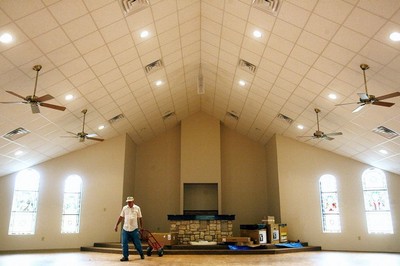 Some heartening news from the Lone Star state. At a time when many dioceses are closing or consolidating parishes, down in Texas, the church business is booming:
Each week at Midland's Our Lady of San Juan Parish, churchgoers attending Mass overflow the building, into the lobby and outside.

The church, located 112 miles west of San Angelo, seats just 300 people, but more than 1,000 families call it their church home.

In November, San Juan's parishioners will have a new church building, one with a seating capacity of 1,200 and a 20-foot diameter dome that towers 91 feet in the sky.

Eighty percent complete, the new San Juan — renamed San Miguel Arcángel — is a visual testament to growth in the 29-county Catholic Diocese of San Angelo, where at least 12 building projects have been under way the past two years.

Bishop Michael Pfeifer called it the biggest building boom he's seen in his 25 years as bishop of the diocese.

"There's been a lot of demand for constructing new buildings," he said. "Buildings aren't the most important thing in the world — people are — but to me it's a sign there are many people coming to our churches and wanting more space for worship, prayer, teaching, religious education and other activities.

"I tell our priests (that) when the demands are there to have to build more churches, that's a happy problem. That means we've got a lot of people."

Catholicism, too, is growing in smaller communities such as Mertzon, about 29 miles southwest of San Angelo.

The parishioners at St. Peter Mission also have outgrown their parish, built in the 1940s, and will be moving to a new building later this year.

"The church we are in right now is very small," said Mike Kahlig, deacon of St. Peter. "It doesn't have side aisles; it has a very narrow center aisle. The church we're building, you can fit three of our churches inside the new one."

The new building's completion has been helped along by San Juan — which is donating its old pews — at least one grant and the generosity of the parishioners, Kahlig said.

"If they can build a church in a tiny community like Mertzon, and a church that holds three or more times as many people as before, that's a beautiful example of people being generous, the growth of the community, the growth of the faith," Pfeifer said.

Michael LaMonica, one of three deacons at San Juan, said the church had not been able to afford a new building until recently — a blessing, he said, in an economic recession.

"We were given a challenge grant of $400,000, and the parish had to raise $400,000 in two years and they raised it in less than two years," LaMonica said. "We did all kinds of festivals, had food after every Mass, golf tournaments — everything we can to raise money. The church responded wonderfully."

In Odessa, about 132 miles from San Angelo, Holy Redeemer Parish is consolidating its religious education in a new 17-classroom building, expected to be complete in September.

"I understand very well that the kids are bigger in size compared to the kids 10 years ago the same age," said the Rev. Bernardito Getigan, Holy Redeemer's priest. "It's a bigger size, and we are looking at making it technology friendly."

Holy Redeemer's parish is growing, Getigan said, and so is the number of children.

"Every year we see a growth of 50 to 80 kids, and this parish is a young parish — a lot of young people are coming to Holy Redeemer," he said.
And that's just for starters. Check out the rest. Praise God.