The problems with this item in TIME magazine begin in the second sentence:
Alta Jacko is the mother of eight children. She is also an ordained priest in the Roman Catholic Church.
Actually, no. Whatever else she might be, Ms. Jacko is not ordained. What she experienced would be termed an "attempted ordination." It has no validity or sacramental value, and is not recognized by the Catholic Church.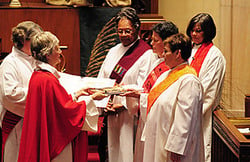 Moving on, the reporter, Dawn Reiss, interviews a priest who helped Jacko in her quest for ordination — teaching her liturgy, and how to say the mass, among other things — and outlines the growing number of women who are taking part in these ceremonies.
Well, that's a story we've heard again and again over the last few years. It's become a bit predictable.
But on closer inspection, this piece is particularly bad. As a journalist, I have to note that the imbalance and bias throughout this account is breathtaking. Any and all appearance of objectivity has been tossed out the window. No other voices are heard, except those that belong to "women priests," those who helped them, or those who support them. The legitimacy or validity of their orders are never questioned. An authoritative spokesman for the Church is never cited. Nowhere does the piece mention that, according to canon law (just clarified again this past summer) these women have committed a "grave sin," and that they and those who are involved in attempted ordinations are automatically excommunicated. Instead, these women are all presented as heroic victims — each and every one seemingly a Rosa Parks, consigned to the back of the Catholic bus, and breaking Church law to become, in their eyes, "ordained."
The debate over women being ordained priests won't be ending any time soon — and the Church has its hands full trying to explain and make explicit something many in the pews find hard to understand in the first place. Intelligent people can disagree about whether or not the Church's stand on this issue is theologically sound or socially just. (Though the official Vatican document leaves little room for dispute.)
But what can't be disputed is that TIME's treatment of this particular story is just plain shoddy.
I'd like to hear a TIME editor explain why this piece was allowed to be published in its final form, without even attempting to follow the kind of basics taught in Journalism 101.
As a member of the Catholic clergy, I find this sort of inaccurate and incomplete reporting annoying and disappointing.
But as a journalist? It's just embarrassing.
UPDATE: The blog Get Religion caught wind of the piece and — in an even more devastating critique — noted:
"Whether or not you are an 'ordained priest in the Roman Catholic Church' is similar to whether or not you are a starting pitcher for the Yankees. It's not about what you feel called to do. It's not about feelings at all. And a journalist can check out this fact just as easily as she can check out the roster for a baseball team….Unfortunately, the story is just a complete train wreck."
As for me, I'm still waiting for the TIME editor to defend this "train wreck," and why it was permitted to see the light of day to begin with.