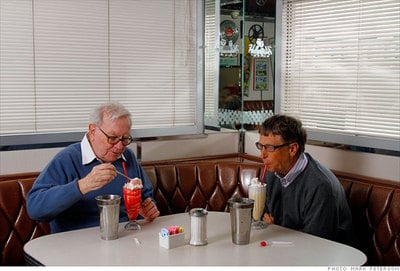 Last year, Fortune magazine broke the story of a remarkable gathering of some of the wealthiest men and women in the world. It happened here in New York, and it was hosted by David Rockefeller. Mayor Bloomberg was there, and Oprah Winfrey. It was organized by Bill Gates and Warren Buffet. Fortune magazine called it the start of the biggest fundraising drive in history.
This past week, the fruits of that drive were announced. It was called, quite simply, "The Giving Pledge."
Forty of the world's wealthiest people – billionaires, not millionaires — wrote letters and posted them online, pledging to give at least HALF of their fortune to charity.
You can read the letters at givingpledge.org.
Many of the names are familiar – besides Bloomberg and Gates and Buffet and Rockefeller, there's George Lucas and Ted Turner.
There is Barron Hilton, son of Conrad Hilton. Not only is Conrad Hilton a household name, he was also at one time the father-in-law of Elizabeth Taylor. Some of you may remember that he was a recurring character last season on "Mad Men." But he was also a devout Catholic. "Throughout his life," his son wrote, "he embraced the power of prayer, and felt it was our God-given responsibility to alleviate the suffering of the most disadvantaged among us. He generously supported Catholic sisters and other worthy causes, writing personal notes to accompany his checks." That grew into the Conrad Hilton Foundation, and his son is now pledging a large part of HIS fortune – an estimated 1.2 billion dollars – to keep it going.
Another of the founding 40 is Tom Monaghan. He owned the Detroit Tigers, founded Domino's Pizza, sold it, and has been using his fortune to fund a variety of Catholic causes, including Ave Maria University. "As a Catholic," his letter states, "I would not be living out my faith if I did not use the abundant resources God has given me to help others." He intends to use his money to support Catholic education. As the Detroit Free Press noted a few years ago, "Monaghan Plans to Die Broke."
This "Giving Pledge" is an amazing undertaking, the largest philanthropic effort ever. It's a great challenge to the rest of the world.
But then, so are Christ's prophetic words in the gospel.
Store up "an inexhaustible treasure in heaven," Jesus says. "Where your treasure is, there also will be your heart." Be prepared, he says, for the final judgment.
This follows, of course, last week's passage, about splitting an inheritance. "One's life does not consist of possessions," Jesus told the crowd. Rather, he said, be rich in what matters to God.
His words are a challenge to people who are billionaires — but also to those of us who aren't.
Ask ourselves: where does my treasure lie? Is it in that 52 inch TV I have in the living room? The clothes stuffed in to my closet? The Lexus parked in my garage?
Or is it the children sleeping upstairs?
Is it the friend I haven't called back, or the wife I forgot to kiss goodbye this morning?
Is it something even more intangible? Is it my faith? Is it compassion? Mercy? Prayer? Love?
These are Christ's treasures – God's treasures. And Jesus has been telling us that all along the last few weeks.
The scripture passages we've been hearing every Sunday for the last several weeks follow Christ's journey to Jerusalem, where he will suffer and die. During this journey, there have been dramatic parables, like the Good Samaritan. There have been powerful lessons – the encounter with Mary and Martha, the teaching of the Our Father, the sending of the 72 into the world. But taken in context, read as a whole, they are much more than just great stories from the Bible.
Together they are Christ's parting message to the world.
Many of you will remember the bestselling book "Tuesdays with Morrie," by Mitch Ablom, in which a young writer reconnects with his teacher, who's dying of ALS, Lou Gehring's disease. Across a series of Tuesdays, Mitch Ablom learns valuable lessons about life, and what really matters. Well, so it is with this series of readings from Luke's gospel. Consider this "Sundays with Jesus" – his last lessons to us, his followers.
These are lessons given as Christ walks his final road to Jerusalem. They teach us about prayer. About caring for our neighbors. About how we need to care less about what matters to this world…and more about what will endure in the next. These lessons are his treasures – but they are also ours.
Be prepared, Jesus tells us today. At the conclusion of today's gospel, he explains: "Much will be required of the person entrusted with much, and still more will be demanded of the person entrusted with more."
He is speaking about all of us, of course.
But I think he is also speaking of himself – the Son who has been entrusted with a great treasure by the Father. He knows his time is limited, his days are numbered. And he needs to share what he knows with the world.
That is Christ's "giving pledge" to us. Our inheritance. He pledged his life, and gave it. And we are nurtured and nourished again and again by THAT inheritance.
You can't measure its value in dollars. I doubt Bill Gates or David Rockefeller will mention it in a press release.
But it the most important inheritance in history.
Having received this inheritance, what will we do with it? How can we live Christ's gospel? How can we make it last, and pass it on? How can we prepare for the life to come?
Remember Christ's words: "Where your treasure is, there also will be your heart."
This morning, each of us is challenged to ask: where is my treasure? Where is my heart?
Now is the time for us to find the answers – and, perhaps, make our own "giving pledge" to God.