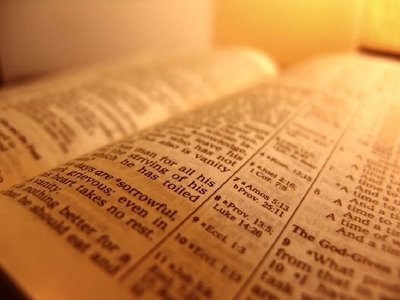 I hope he has strong thumbs.


Details:
File this under "people with good intentions, a whole lot of commitment and an Internet connection." A UK worship director has planned to tweet the Christian Bible — or summaries of each chapter, at least — from Genesis to Revelation, one chapter each day.

The project started just a few days ago and will end on November 8, 2013. If you like, you can follow the account, @BibleSummary.

In an interview with the Telegraph, the account's creator, Chris Juby, made the salient point that the Christian Bible holds an important role in Western literature.

"The Bible underpins so much of our culture" he said. "People like Shakespeare and Dickens made casual references to what we would now regard as obscure passages of scripture."

Juby's first tweet reads:

Gen1: God created the heavens, the earth and everything that lives. He made humankind in his image, and gave them charge over the earth.

Summing up scores of verses in a single tweet is a daunting task, but Juby said he hopes his Twitter (Twitter) account will inspire his fellow Christians and others to read the Bible in its entirety. "My summaries are no substitute for the real thing," he concluded.
Check out the rest.