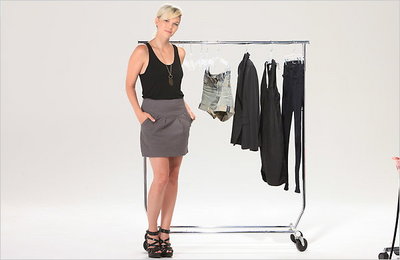 Try living with just six pieces of clothing for a month and see what happens.
Truth be told: this just might be the wardrobe for the '10s — the out-of-work, out-of-money, foreclosed-and-desperate era of the chronically unemployed who find their lives radically simplified (albeit, against their will.)
From the New York Times:
Imagine that horrible though all-too-familiar feeling: You are standing before a fully stuffed closet and yet have nothing to wear.

Now, imagine something worse: Your closet contains only six items, and you are restricted to wearing only those six items for an entire month.
Now, if you can bear it, imagine something unspeakable:

No one notices.

Nearly a month into what amounted to just such a self-inflicted fast of fashion, Stella Brennan, 31, an insurance sales executive from Kenosha, Wis., realized last week that not even her husband, Kelly, a machinist, had yet figured out that she had been wearing the same six items, over and over, since June 21. The sad punch line is that Mr. Brennan is the one who actually does the laundry in the family.

During her experiment — something called a "shopping diet," actually — which ended on Wednesday, Ms. Brennan made do with the following: a black blazer and pants from H & M; two button-down shirts, one black and one pink; a pair of Old Navy jeans; and one well-worn pink T-shirt.

How she settled on those items was complicated by the fact that she has two young children, a golden retriever and three cats, and that she was starting a new job last month with an hourlong commute. She said she needed "six items that are animal-hair-, kid-, food- and wrinkle-resistant. I need these items to be professional, but also work for playing football with my son and tea parties."

She agonized the longest over the T-shirt — the button-down shirts and suit separates were for work, but the right T-shirt could be worn casually with jeans or dressed up with the blazer. Her revelation at the end of 31 days, after her husband still had not noticed, even when she wore her floral-printed pajamas to do yard work: "Obviously, I didn't need all of these clothes."

This self-imposed exercise in frugality was prompted by a Web challenge called Six Items or Less. The premise was to go an entire month wearing only six items already found in your closet (not counting shoes, underwear or accessories). Nearly 100 people around the country, and in faraway places like Dubai and Bangalore, India, were also taking part in the regimen, with motives including a way to trim back on spending, an outright rejection of fashion, and a concern that the mass production and global transportation of increasingly cheap clothing was damaging the environment.
Check out the rest, along with some pictures. And then check out your closet.