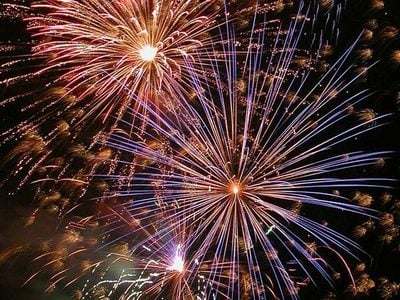 This weekend, we mark a great beginning – the birth of our country. As a matter of fact, we're just ending a time of year when we celebrate a lot of great beginnings: graduations, weddings, ordinations.
It's a good season for Hallmark.
Sunday, here in the parish, we'll also be celebrating baptisms- another ritual honoring the start of something beautiful, a life in the church.
All these momentous beginnings signal life going on, landmarks being reached. They're moments of great hope.
And, I imagine, so was the moment we encounter in today's gospel – when Jesus sent 72 of his followers into the world, to begin his work.
We don't know who these people were. Luke doesn't name them. They weren't necessarily any of the 12 apostles. They were, it seems, ordinary people — faithful followers of Christ who were eager to spread his message.
If you want an idea of what they looked like, just look around you.
For those 72 are us.
What's being described, I think, is not just a one-time event, the first missionaries being dispatched to a few scattered towns.
It is, in fact, the great mission of the church through all time.
And it's not just Christ's mission.
It is ours.
The people in Luke's gospel are being sent to prepare the way of the Lord – sent, the gospel tells us, "into every town and place where he intended to go." And of course, that means everywhere. It's not just Jericho or Jerusalem. But also Rome and Rego Park…Brooklyn and Beijing. Every corner of the world.
The mission is universal, and so is the message: peace. Peace. It is the first word that Jesus speaks to his followers after the resurrection. And it is the message he wants his disciples to carry into the world, as well. "Peace."
And he also wants us to proclaim another simple truth: "The kingdom of God is at hand."
Now, I suspect that, just maybe, that's not something you say every day. I know I don't.
But we don't need to proclaim it with words.
We proclaim it with our lives.
Where do you find the kingdom of God?
It is a Sister of Charity bathing a leper. A chaplain praying over a prisoner. A teenager volunteering to help the homeless. A mother and father teaching their child the sign of the cross.
It's Officer Steven McDonald, paralyzed by a bullet 25 years ago…but at his baby's baptism, just a few months later, forgiving the teenager who shot him.
We proclaim God's kingdom with hearts full of compassion, with mercy.
We proclaim it in the way that we love.
That tells the world: "The kingdom of God is at hand."
And we proclaim it with simply being who we are, and using the gifts that God gave us.
Consider Christ's simple instruction. Don't take a money bag, or a sack or sandals, he tells his followers.
In other words: bring nothing.
Only bring yourselves.
Use that. What we are, who we are, is enough.
What a beautiful thought. Our Catholic tradition tells us that "grace builds on nature." This gospel lets us know that our nature is more than enough for God to use as the foundation for His grace. From that, we can become His instruments – instruments, in fact, of peace.
Peace was very much the message, and mission, of a man who made news a few days ago, Msgr. Bernard Quinn.
Msgr. Quinn was born in Newark, New Jersey in 1888, the son of Irish immigrants, and was ordained to serve as a priest in the Diocese of Brooklyn. And at a difficult time in our country's history, just a generation after the Civil War, he turned his attention to black Americans who had migrated from the south to settle in Brooklyn.
To them, he declared, "The kingdom of God is at hand."
He didn't just use words. He used his conviction. His courage. His faith. He fought diligently for dignity, and equality. And he was sent, like those in the gospel, as a lamb among wolves.
Some of his brother priests spoke out, angrily, against equal rights for black Americans — some even saying blacks should not even be Catholic. But Msgr. Quinn fought back.
To those who felt shut out or ignored, discriminated against or abused, Msgr. Quinn carried Christ's message: "Peace. The kingdom of God is at hand." And finally, he achieved his dream and opened the first parish for black Catholics in Brooklyn: St. Peter Claver.
One of his early parishioners was a young lady who sang in his choir named Lena Horn.
He went on to open the first orphanage in the diocese for black Catholics – which was soon burned down by the KKK. That didn't stop him. He just rebuilt it, from scratch, and made sure it was made of brick.
Msgr. Quinn died young, at just 52. But his legacy lives on, in the children and grandchildren and great grandchildren of the first parishioners at St. Peter Claver, who still go there to worship.
Ten days ago, the Diocese did something it's never done before. It formally began the process to have Bernard Quinn declared a saint.
And so this season of beginnings has one more to celebrate – the start of a man's path toward sainthood.
All of us today walk in his footsteps.
And all of us are challenged, like Servant of God Bernard Quinn, and like the 72 in the gospel, to proclaim the coming of God's kingdom.
To proclaim it with joy. And with all of the gifts God gave us.
To proclaim it, in fact, with our lives.
If we leave this sacred place with that kind of dedication, we will have another "great beginning" to celebrate this weekend – one also worthy of fireworks and sparklers.
It could be the start of a new mission, a new evangelization: bringing the kingdom to the world, one life at a time, one heart at a time.
In this time of beginnings…let us begin that great work.
Related:
Msgr. Pope on The Seven Habits of Evangelizers

Homily for this Sunday from 2007