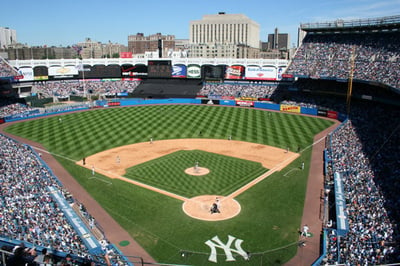 [Note: This homily was delivered last Sunday to about 250 deacons and their wives at the opening liturgy of the annual gathering of the National Diaconate Institute for Continuing Education (NDICE) at Xavier University in Cincinnati. I was also privileged to be the keynote speaker later that night. The homily was designed, then, for a very particular audience, addressing in part the theme of the week, which was "The Icon of the Deacon as Servant."]
+++
Last week, New York City mourned the loss of a baseball legend.
I'm not talking about George Steinbrenner.
I'm talking about Bob Sheppard. He died last Sunday, just a few months shy of his 100th birthday.
Bob Sheppard never threw a pitch or stole a base or scored a triple at the bottom of the ninth. But he was as much a part of Yankee Stadium as the wood in the bleachers and the smell of the popcorn and the roar of the crowd.
Bob Sheppard, you see, was the stadium's announcer.
Everyone knew the game would not begin, could not begin, until they heard Bob Sheppard utter those immortal words: "Ladies and gentlemen, welcome to Yankee Stadium." His was the voice that generations of boys heard on a Saturday afternoon, heralding the arrival of giants. Joe DiMaggio. Mickey Mantle. Whitey Ford.
Some of his obituaries mentioned that Bob Sheppard was a devout Catholic, and went to mass every day. He was also a lector at St. Christopher's, his parish on Long Island. And that may be why he brought to his work in baseball an element of grace.
In Yankee Stadium, that great cathedral of baseball, he was known by everyone as the "Voice of God."
I'm thinking of him this Sunday, and thinking of the "voice of God," because in the gospel we just heard, Mary encounters the voice of God — and gets to hear the real thing.
This familiar gospel passage has a lot of resonance, particularly for deacons. But this afternoon my mind is drawn to that one description of Mary, the woman who doesn't utter a word, who doesn't seem to have a voice, but is captivated, instead, by the Voice of God, the voice of Christ.
"Martha had a sister named Mary, who sat beside the Lord at his feet listening to him speak."
Is there any image more beautiful? Any intention more holy? What more could any of us here want than to sit at the feet of the Lord, and "listen to him speak"?
How many of us here would give anything to experience that moment, to be transported to Bethany for just a few minutes, to hear what she heard – and to have the opportunity, that blessed opportunity, to place ourselves in the presence of God…and just listen.
But one of the tragedies of modern life is that listening for God's voice has become increasingly difficult. Deacons tend to hear only two voices: their wives' and their pastor's. And there are all the others competing to be heard. The DRE. The head of the Legion of Mary. The altar servers. And like Martha, we are worried and anxious about many things. The mortgage, the weird noise in the car, the melting of the polar ice caps, tar balls on the beach, skyrocketing debt, parish council meetings, school bake sales, meeting with the social justice committee, couples to meet about weddings, families to meet about baptisms…
And then — in the middle of all that — your daughter comes home with a ring in her nose.
Yes. We are worried and anxious about many things!
But we cannot forget…to listen.
Listen for the voice that spoke to Mary. The voice that called out to Moses. The voice that spoke to countless believers and seekers across the centuries, down through history. The voice that said, "Be still. Know that I am God." The voice that said, "Be not afraid."
Listen for it.
In fact, Luke's gospel might be considered a gospel about listening. It begins with Zechariah listening to an angel. Then the Virgin Mary listens to an angel, too, and so does Joseph, and so do the shepherds. And decades later, there are the throngs who listen to Jesus on hillsides and on seashores. And near the end, in the final episode of the gospel, two people on a journey begin to discover the truth about Jesus by walking with him…and listening.
When Joseph Ratzinger was elected pope, he chose for his name, and his patron, the saint who revolutionized Europe by writing a rule for life that begins with one simple word:
"Listen."
"Listen," the Rule of St. Benedict begins. "Incline the ear of the heart."
Twenty centuries ago, in the town of Bethany, a young woman did just that – and as Jesus said, she chose the better part.
But what about us?
Everyone here knows that deacons are called to serve. The theme of this week is the deacon as servant. And God knows, there is more than enough work to do – and we could very easily find ourselves saying, with Martha, "Lord, do you not care that I've been left by myself to do the serving?"
But as much as we serve – as much as we are called to serve and as much as we love to serve – we are also called, like Mary, to listen.
We should always remember that two women lived under one roof in that house in Bethany. Together, they formed a family.
If we are only serving, only being busy, we are incomplete.
We need to rediscover what it means to sit at the feet of the Lord – and listen.
We are too often Martha. But we need, also, to be Mary.
We need to make of our lives – our busy, over-scheduled, under-valued lives — a prayer. We need to find the time, and make the time, to turn our gaze to the Lord… and listen.
For over 50 years, Yankee Stadium offered the world Bob Sheppard, the "Voice of God." One obit even said "The voice of God has been stilled." But no. The real voice still speaks to us. Mary heard it. And we can, too.
When we receive Christ in the Eucharist tonight, let us take that opportunity to open our hearts – and our ears.
I'm reminded this evening of the ancient words of another man who was called by God to serve. His words could be a kind of lectio for us this week – grounding us, centering us, calling us to the kind of discipleship that Mary represents.
The words of Samuel…could also be ours:
"Speak Lord. Your servant is listening."
+++
[Footnote: Most of those who attended the NDICE conference were from the Midwest — Ohio, Illinois, Kentucky, etc. I didn't see anybody else from Brooklyn. There were, however, a couple of deacons from Rockville Centre. After I gave my keynote, one of them came up to me and asked if I had known Bob Sheppard. I said no. He replied: 'I did. I'm deacon at his parish." I was flabbergasted. He went on to praise him to the skies — a wonderful man, and faithful parishioner. But really: what are the odds that a deacon from Brooklyn would prepare a homily about a guy from Long Island, to be delivered in Ohio, and that one of those in the congregation would be from the same Long Island parish? Further proof: you never know how the Holy Spirit will work!]