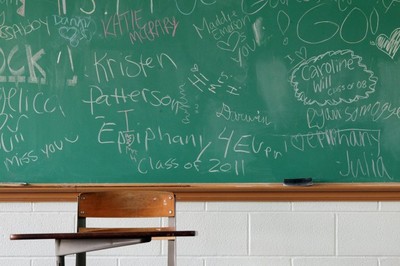 Are we witnessing the beginning of the end of Catholic education in this country?
The St. Louis Post-Dispatch takes a hard look at what's happening in its own backyard, and then surveys the landscape elsewhere:
Catholic schools around the nation are shrinking in number, according to the National Catholic Educational Association. While 24 schools opened nationwide last year, 174 closed or consolidated. Over the last decade, enrollment rates have decreased 20 percent, said Karen Ristau, president of the association.

One bright spot has been the city of St. Louis, where after 40 years of steady decline, Catholic school enrollment saw a slight increase in 2008 and maintained that gain last year.

Overall, however, Catholic school enrollment in the 11 counties under the Archdiocese of St. Louis has dropped by 11,000 in the past 10 years. Enrollment in the Belleville Diocese has dropped by 10,000.

Most parish schools must survive on their own through tuition, Sunday collections and fundraising, said Al Winklemann, associate superintendent at the archdiocese for elementary school administration. He said the archdiocese steps up when parents or the parish can't afford to keep some schools open. Last year, the archdiocese gave $1.8 million in aid and this year that will grow to $2 million.

"It's always been a challenge to maintain Catholic schools," Winklemann said, adding that the cost of education has continued to rise as the economy has become more challenging. "I think all schools have felt that impact."

But the economy is only part of the issue, said Thomas Posnanski, director of education for the Belleville Diocese.

Shrinking family sizes have caused a large enrollment drop in Catholic schools. Posnanski said he comes from a family of 12. He subsequently had five children, and his children have three kids each.

"The number of families having a smaller number of kids has had a direct impact on the number of kids enrolling," he said. More than 60 percent of the families enrolled in schools in the Belleville Diocese have just one child, he said.

Catholics also are choosing parish schools less frequently, Ristau said.

"Catholics are not as strongly attached to the church as much as they might have been in the past," she said. "They don't go to Mass as much as they did 30 years ago."

Indeed, Catholic researchers at Georgetown's Center for Applied Research in the Apostolate report that while 24 percent of Catholics born from 1943 to 1960 attend Mass at least once a week, 17 percent of those born after 1981 attend weekly Mass.
Read on for more.