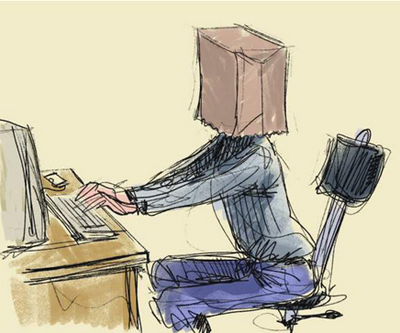 It's not a self-help group (not yet, anyway) but the influx of anonymous commenters, who can say anything without really taking responsibility for their words, can pose problems on news sites and, as I've discovered, in the blogosphere.
"It is the ability to remain anonymous that encourages people to say whatever they want [online] … when people are required to give their names, our thinking is that they'll think twice," said news editor Margaret Sullivan, who added that vetting commenters will be a "challenging" task. "There might be people who slip through the cracks."

Like those bathroom-stall messages, online comments on news stories can be difficult to police. For years, many publications have tried to strike a balance between encouraging open communication among readers and maintaining civil discourse. But a few sites, fed up with rude or inflammatory comments, are taking bold new steps to raise the level of dialogue.

The website of the Sun Chronicle newspaper in Attleboro, Massachusetts, launched a new system July 7 that requires commenters to register with their names, addresses, phone numbers and a credit card number. Users are charged a one-time fee of 99 cents, activating their accounts; commenters' names and communities, based on their credit card information, appear beside their posts on the site.

Although only 22 people had registered to comment on the site as of Friday, Sun Chronicle editor Mike Kirby said the paper, which has a circulation of about 15,000, has received as much praise as criticism over the new system.

"I can't guarantee this is going to work, but I know for sure it seems to improve the discourse online and it will certainly bring some responsibility and consistency," he said.

Or will it? While anonymity often serves as a scapegoat for inflammatory comments online, journalism observers say it's only one piece of a larger puzzle.

"The question of anonymity is definitely something we should think about, but I don't think that's the only element when you consider productive user commenting," said Steve Myers, managing editor at Poynter Online, a website run by the nonprofit school for journalists.

Users also sometimes need to be reminded of a site's commenting guidelines before they post, Myers said. "It's important to tell people what you're looking for," he added.
Well, if you want to know what I'm looking for, here are my guidelines, from some months back.
You can read much more on the topic at the CNN link.