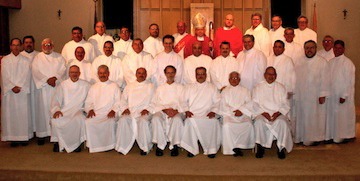 It's about to happen in one Texas diocese:
When the 29 diaconate candidates are ordained June 5 at the McNease Convention Center in San Angelo, the diocese will officially have more deacons (80) than priests (58).

The graduates of the intensive, five-year course, will represent the fourth diaconate class since the restoration of the permanent deacon program in the diocese in the 1960s, but the second class in just over 10 years.

Deacon Tim Graham, appointed to oversee the program in the diocese after the late Rev. Tom Kelley fell ill with cancer, says this year's class is "awesome."

"To put it in the vernacular," Graham said, "they blow me away."

As Graham said, becoming a deacon is "a huge commitment just to show up."

The process of becoming a deacon begins with a six-month discernment period to allow potential candidates time to decide if it is a commitment they can fully and wholly undertake. The program requires candidates and often their wives to make a trip to San Angelo for weekend classes that last from Friday night until Sunday afternoon once a month for five years. In-depth reading is required, research papers are written and graded, tests to measure what the candidates are learning are given. The curriculum is graduate level and the homework intense, but the reward is immeasurable.

"Ordained deacons are the leaven in the world that would otherwise be missing," Graham said. "Priests and sisters are, of course, seen as clergy. A deacon is 'Good old Joe from next door."

This year's candidates, Graham said, have repeatedly astounded him with their ability to challenge visiting professors.

"We'll have a professor come in to handle, say, ecclesiology, and the professor will start talking and my expectation has been that these guys won't keep up, but all of a sudden a professor will be challenged, and not just by two or three guys, but by a good representation of the class, and by the wives, too."
Check out more at the link. There's also a profile of some of the men in a local paper.
Congratulations! Ad multos annos!