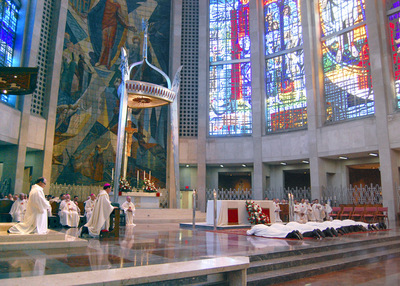 From the Catholic Transcript:
The ordination of nine men to the permanent diaconate drew four bishops and about 25 priests, 50 deacons and 300 family members and friends to the Cathedral of St. Joseph on June 5.

Archbishop Henry J. Mansell, the ordaining prelate, began the celebration by speaking of how the new deacons signify new growth and regeneration in the Archdiocese by contributing their various gifts to the service of God's people.

Permanent deacons, although not able to celebrate Mass and certain other sacraments, are called to assist the priestly order through the ministry of word, altar and charity. They are able to assist at Mass, especially by proclaiming the Gospel and preaching. They can witness marriages in the Latin Rite and baptize solemnly.

Archbishop Mansell noted that the permanent diaconate dates back to the earliest days of the Church, elaborating on how the gifts of such early deacons as St. Lawrence and St. Ephrem impacted generations. He said he hoped that the ministry of the new deacons would impact the lives of subsequent generations as well.

Referring to the restoration of the permanent diaconate stemming from the Second Vatican Council, Archbishop Mansell emphasized the council's documents on evangelization, the work of spreading God's word to the world, as a mission uniquely tied to the diaconal ministry of word and charity.

"This is how we go forward, preaching the Lord Jesus," the Archbishop remarked, commending the new deacons to "go forth as part of a communion – a communion of the Church here as part of the Archdiocese – and in communion with the Church universal across the world."

"Most important," the Archbishop offered, "is the work that is done, the sacrifices that are made, the history that we are learning in terms of the decades of increased usage of the permanent diaconate."…

…The deacons began their ministries on June 19 in communities throughout the Archdiocese: Richard H. Hamel is assigned to St. Matthew Parish in Forestville; Alexander López, to Sacred Heart Parish in Waterbury; Edwin López, to St. Margaret Parish in Waterbury; Roberto Lugo, to Blessed Sacrament and St. Anne in Waterbury; Ernest H. Pagliaro Jr., to St. Francis of Assisi Parish in Naugatuck; Clifford Eric Thermer, to St. Patrick Parish in Farmington; Michael Torres, to the East Hartford cluster of parishes; Michael J. Walsh, to St. John of the Cross Parish in Middlebury; and Michael Ward, to St. Maurice and St. Jerome Parishes in New Britain.
Check out the link for more.
Ad multos annos and congratulations, brothers!