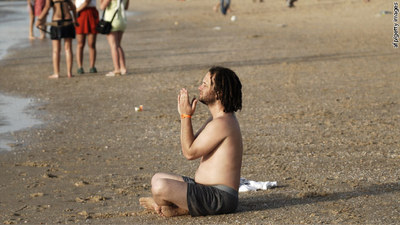 That's how one author is describing the pick-and-choose, "have-it-your-way" spiritual life that is becoming increasingly popular — and it's sparked some lively debate:
"I'm spiritual but not religious."

It's a trendy phrase people often use to describe their belief that they don't need organized religion to live a life of faith.

But for Jesuit priest James Martin, the phrase also hints at something else: egotism.

"Being spiritual but not religious can lead to complacency and self-centeredness," says Martin, an editor at America, a national Catholic magazine based in New York City. "If it's just you and God in your room, and a religious community makes no demands on you, why help the poor?"

Religious debates erupt over everything from doctrine to fashion. Martin has jumped into a running debate over the "I'm spiritual but not religious" phrase.

The "I'm spiritual but not religious" community is growing so much that one pastor compared it to a movement. In a 2009 survey by the research firm LifeWay Christian Resources, 72 percent of millennials (18- to 29-year-olds) said they're "more spiritual than religious." The phrase is now so commonplace that it's spawned its own acronym ("I'm SBNR") and Facebook page: SBNR.org.

But what exactly does being "spiritual but not religious" mean, and could there be hidden dangers in living such a life?

Heather Cariou, a New York City-based author who calls herself spiritual instead of religious, doesn't think so. She's adopted a spirituality that blends Buddhism, Judaism and other beliefs.

"I don't need to define myself to any community by putting myself in a box labeled Baptist, or Catholic, or Muslim," she says. "When I die, I believe all my accounting will be done to God, and that when I enter the eternal realm, I will not walk though a door with a label on it."

BJ Gallagher, a Huffington Post blogger who writes about spirituality, says she's SBNR because organized religion inevitably degenerates into tussles over power, ego and money.

Gallagher tells a parable to illustrate her point:

"God and the devil were walking down a path one day when God spotted something sparkling by the side of the path. He picked it up and held it in the palm of his hand.

"Ah, Truth," he said.

"Here, give it to me," the devil said. "I'll organize it."

Gallagher says there's nothing wrong with people blending insights from different faith traditions to create what she calls a "Burger King Spirituality — have it your way."

She disputes the notion that spiritual people shun being accountable to a community.

"Twelve-step people have a brilliant spiritual community that avoids all the pitfalls of organized religion," says Gallagher, author of "The Best Way Out is Always Through."

"Each recovering addict has a 'god of our own understanding,' and there are no priests or intermediaries between you and your god. It's a spiritual community that works."
There's much more to chew on this "Burger King spirituality" at the link.