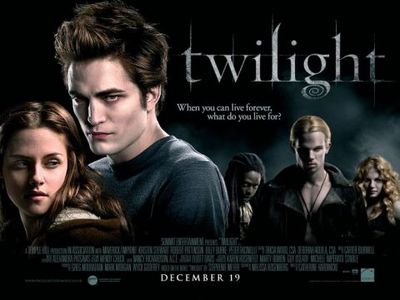 Another sign of the times — and, I think, a rather disconcerting one.
From the New York Times:
For baseball fans, 2009 was the year of the Yankees. For job seekers, it was the year of the Great Recession. And for people who track baby names, it was the year of the vampire.

The Social Security Administration released its annual rundown of the most popular names for newborns on Friday, and flying up the list was an ancient name with modern fame: Cullen, the surname of one handsome bloodsucker, Edward, in the frighteningly popular vampire films "Twilight," based on the best-selling novels by Stephenie Meyer.

Cullen materialized at 485, leaping almost 300 spots from 2008 for the biggest increase of any boy's name; it wedged firmly between Braiden and Kason.

But the nation's fascination with the undead may not end there. The most popular boy's name was Jacob, an eternal favorite that happens to be the name of the buff rival of paler-than-thou Edward: Jacob Black. The most popular name for girls was Isabella, the progenitor of Bella, the love interest of both Edward the vampire and Jacob the werewolf. Just plain Bella logs in at 58.

Mark Hinkle, a spokesman for the Social Security Administration, said that about 22,000 children were named Isabella, out of 4.1 million babies, and nearly 21,000 new Jacobs are toddling about. Mr. Hinkle noted that Jacob had held the crown for most popular boy's name for 11 years — something he suggested Ms. Meyer might have noticed.

"Maybe she got the name from checking our Web site," Mr. Hinkle added, pointedly.