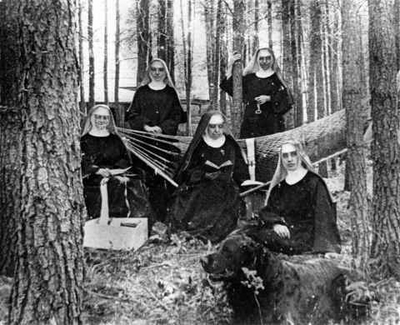 The prominent Washington museum is hosting an unusual exhibition that will be hitting the road later this year — and it sounds like something every Catholic should try to see.
A gallery at the Smithsonian Institution in Washington has taken on a mystical quality in the form of an exhibit called "Women & Spirit: Catholic Sisters in America."

The S. Dillon Ripley Center at the Smithsonian Institution holds more than a few nun's habits and artifacts. The exhibit also features state-of-the-art multimedia images, photos and historic narratives depicting the impact Catholic sisters have had in the U.S.

"It's really amazing to see all they've done for our country," Smithsonian spokeswoman Becky Haberacker told Catholic News Service on a recent tour. "It's also really interesting to find out how rugged they are. That just isn't something I imagined before when I thought about nuns."

For nearly 300 years communities of U.S. women religious have had a lasting place in the American social and cultural landscape and this new traveling exhibit honors their work and showcases their role in American society.

The exhibit includes an 1804 letter from President Thomas Jefferson to an Ursuline nun, braided corn husk shoes worn by pioneer sisters, the nurse's bag of a nun used during the Civil War and student work from the Oblate Sisters of Providence, the first all-black community.

During the tour, Sister Annmarie Sanders – a Sister of the Immaculate Heart of Mary who is communications director for the Leadership Conference of Women Religious – spoke of her pride in her organization's role in assembling the traveling exhibit.

Sister Annmarie also beamed when she talked about the women featured in the exhibit.

"So if people come to the exhibit, they would meet sisters who have been doctors, lawyers and women who did incredible things in the early days who served the immigrant population in ways that people probably never dreamed possible," she said.
Check out more at the link. And check out the exhibit's website, too.