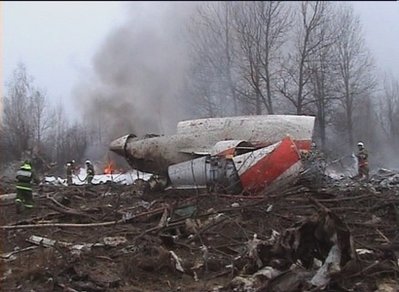 The shocking tragedy in Russia today includes the news that several prominent members of the clergy were among those killed:
The Holy Father expressed his sorrow over the death of Polish President Lech Kaczynski and those accompanying him on a flight to Russia on Saturday morning. Pope Benedict remembered all of those who died and implored "a special blessing to the people of Poland from God omnipotent."

According to CNN, President Kaczynski, his wife, top members of the Polish government, army and several Church authorities were on the plane that went down just seconds from landing at the airport of Smolensk, Russia. The aircraft apparently clipped some trees with a wing as it made its way through heavy fog. Reports vary on the number of people on the plane, but counts run from 89 to 132 people, none of whom survived.

The delegation was headed to the small village of Katyn, a few kilometers from Smolensk, in a landmark visit to observe the 70th anniversary of the execution of more than 20,000 Polish officers during World War II.

Pope Benedict XVI wrote in his telegram to the acting President of the Polish Parliament, Bronislaw Komorowski, that it was with "profound sorrow" that he learned of the deaths of those who were on their way to Katyn.

He remembered the president, the exiled ex-president of the Republic Ryszard Kaczorowski, Army chaplain and Bishop Tadeusz Plozki, Orthodox Archbishop Miron Chodakowski and Evangelical military pastor Adam Pilsch by name.

He entrusted all of the victims of the crash "to the goodness of merciful God" and prayed, "May He take them into his glory."

To the families of the dead and to all Poles he sent his "sincere condolences" and assured his them of spiritual closeness.