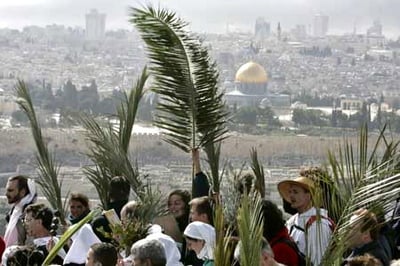 One of the more remarkable aspects of the gospel we just heard is the WAY in which we heard it.
This week is the only time that the gospel is proclaimed by someone besides a priest or deacon – every individual in this church takes part.
It's a great privilege. And it – literally — gives us a role in Christ's passion.
But what do we say? What lines are we given?
"Not this one! Barabbas!"
"Hail, King of the Jews!"
"Crucify him!"
"Take him away, crucify him!"
We cry out for vengeance, and we accuse his disciples, and we gamble to see which of us will get his cloak. We mock him.
We are the mob. And we cruelly assist in condemning Christ to death.
And the great irony, of course, is that we do it while clutching these palms.
They are a reminder – and an indictment. While we were standing here, crying out "Crucify him!," we were clutching the branches that we used to sing out "Hosanna." The palms reveal our very human duplicity. How easily we turn. How quickly we pivot from faithful, to faithless … from belief to doubt … from being disciples, to being betrayers.
We start out acting like angels, singing "Hosanna." And we end up just being the mob.
It can sometimes be that way throughout the church. The headlines this week have told the story. Men called to holiness can be guilty of appalling sins. Sins of abuse. Sins of neglect. Sins of dishonesty. Sins of betrayal.
And yet, to be a part of the body of Christ is to be with him on the cross. The Catholic writer Ronald Rolheiser has put it powerfully. "To be a member of the church," he wrote, "is to carry the mantle of both the worst sin and the finest heroism of soul….because the church always looks exactly as it looked at the original crucifixion, God hung among thieves."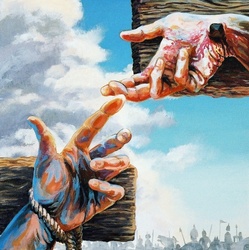 And all we can do sometimes is echo the words of the one thief, words we heard just a few moments ago: "Jesus, remember me." That moment is the only one in any of the gospels where someone calls Jesus by his given name. Maybe it is because it is at this moment – the hour of his death — that he is most like us. He hangs there, stripped, beaten, betrayed. He hangs among thieves. This is what we have done to our God. And this is what we continue to do, even today.
And in our own brokenness, and sinfulness, we ask that he remember us. We pray that we may be better than we are, and receive better than we deserve. We pray that we, who often deserve to be forgotten, may be remembered.
And so, this day, we remember. We remember Christ's journey to the cross, which began with his journey into Jerusalem. We remember our role in his passion – our own sinfulness.
As our participation in this gospel emphasizes: we helped send him to Calvary.
He died for us. He died because of us.
And yet… as we mark the days leading up to Easter, we remember, too, that we are called to something else. As a people. And as a church.
As we journey forward this Holy Week, let us look at these palms and remind ourselves of this beautiful, hopeful truth:
We may be the voice of the mob – we may too often act like thieves. But we have it within ourselves to be more.
We can sing Hosannas.
We can, we must, act like angels.