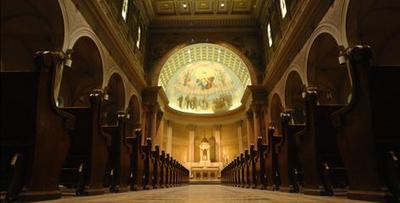 That seems to be the solution for one church in upstate New York, which may soon be headed — brick by brick — to Georgia:
St. Gerard's was where her grandparents and parents were married, where she was baptized and wore the white dress, shoes and veil of First Communion. Years later, she can still hear the three great bells, still see the ceiling fresco of Mary crowned Queen of Heaven.

Sharon Wilbur took those memories of St. Gerard's Roman Catholic Church with her when she moved decades ago to suburban Atlanta, where such a church exists only in pictures. Now, two years after it closed, her old church could be following her south.

Instead of building a neoclassical church, Wilbur's growing parish wants to buy classical-style St. Gerard's, take it apart and ship it 900 miles from Buffalo's depopulated east side to Norcross, Ga., for reassembly at Mary Our Queen parish. The parish has the endorsement of the Catholic archdiocese of Atlanta, the diocese of Buffalo and St. Gerard's former parishioners. All it needs is an additional $10 million.

Transplanting an 800-seat, century-old basilica would be an exceptional solution to an increasingly common problem: what to do about the growing inventory of closed churches across the Northeast and Midwest.

In recent decades, thousands of American churches — no one, including the U.S. Conference of Catholic Bishops, has exact numbers — have closed. Some have been bought by other congregations. Others have found new lives as performance spaces, catering halls, art galleries, restaurants, homes and, in Cincinnati, an Urban Outfitters retail store. But a range of factors — including the unusual size and shape of churches, and restrictions sellers often impose on their reuse (no alcohol sales, no astrology, etc.) — limit the number that find an afterlife.

Many, like St. Gerard's, sit empty and decaying, waiting for demolition. A neighborhood loses an architectural grace note, and those who built it lose something they feel is sacred, according to Wendy Nicholas of the National Trust for Historic Preservation.

Advocates of the plan to move St. Gerard's say it could be a template for saving closed church buildings by finding them new parishes in the suburbs or the Sun Belt — "preservation by relocation," as Mary Our Queen's website calls it.
Check out the link for details.