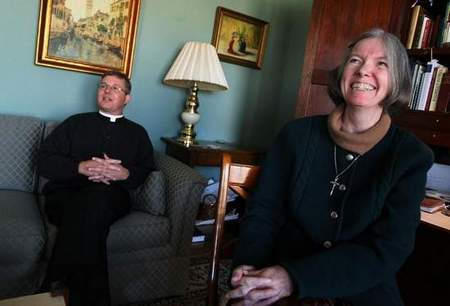 Continuing a quiet trend in this country, another diocese is about to get its first married Catholic priest:
Prentice Dean will be ordained as a Catholic priest on Monday — while his wife watches.

The former Episcopal priest and father of two will become the first married priest in the Nashville diocese.

He resigned from the Episcopal Church because he thought the denomination had moved away from traditional Christianity. He converted to Catholicism five years ago, and, after Monday, he'll be celebrating Mass, hearing confessions and handling all the responsibilities of a priest.

Since the 1980s, the Roman Catholic Church has allowed former Episcopal priests, like Dean, to be ordained under a special provision. Church leaders say the provision is an act of grace toward converts. But some wonder why that same grace isn't extended to former Catholic priests who left the ministry to marry.

Right now, about 100 married former Episcopal priests have been ordained. Still, the vast majority of the more than 40,000 priests in the United States are celibate.

[snip]

After he is ordained, Dean will continue his job as vice chancellor at the diocese while trying to maintain a semblance of normal family life with his daughters and Teresa, his wife of 27 years.

The two met at a friend's New Year's Day party in 1982. He had considered the ministry but decided to focus on raising a family.

In his early 40s, the call to the ministry returned.

The Deans moved to Sewanee, Tenn., in 2000 so he could attend divinity school at the University of the South. After graduation, he became rector of St. Bede's Episcopal Church in Manchester, Tenn.

In seminary, Dean became concerned about his denomination. What troubled him most was that there seemed to be no authority that could tell Episcopalians what theology was right and what was wrong.

While at St. Bede's, he began meeting with a former Episcopal priest who had converted to Catholicism. The more he learned, the more he was drawn to the Catholic Church.

In 2005, he took a leap of faith, resigned as pastor of St. Bede's and became a Catholic.

Although Dean says that decision eased his soul, it came at quite a cost. He was left with no job, few prospects and college bills for two daughters.

Dean knew about the pastoral provision, but was given no promises that it would apply to him. "We left everything in God's hands," he said.
There's much more at the link. Check it out.
And keep this man and his family in your prayers!