We have been hearing so many stories of suffering and heartbreak in Haiti.
But I wanted to share with you today another story about Haiti – and one that I think helps to illuminate the gospel we just heard.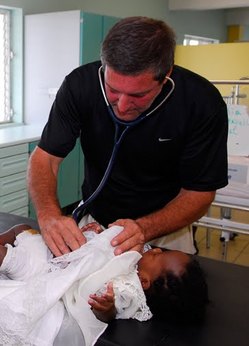 It is the story of Fr. Rick Frechette. And his story actually begins here, in Queens. Fr. Rick studied here, at St. John's, before being ordained a Passionist priest in 1979. He worked as a parish priest in Baltimore for several years until he met another priest who had founded an orphanage for Hispanic children in New Mexico. Fr. Rick was deeply moved by their plight, and felt called to do something.
So, he went to Honduras to help establish an orphanage there.
He put out into the deep.
He later visited Haiti, where he met Mother Teresa's Sisters of Charity, who had established a home for babies and their critically ill mothers, many of them dying of AIDS.
He started an orphanage there, called "Nos Petits Freres et Soeurs" – Our Little Brothers and Sisters. Despite uncontrollable crime and chaos in the country, the orphanage has survived and thrived. At one dangerous point, during an economic embargo, Fr. Rick was urged to leave the country. He refused.
"How could we leave the children?," he asked. "What kind of shepherd would leave when the wolf comes?"
He stayed. And he put out even deeper.
After a few years, he decided to go to medical school.
After being certified as a doctor, he began working at a clinic in Port au Prince, a clinic with no water, no electricity, few medical supplies.
And he put out even deeper.
Several weeks ago, he learned that his mother in the United States was dying. So Fr. Rick returned to this country to help care for her.
Last month, he sent an e-mail to several friends:
"Daily mass, managing her pain medicines, helping in any way I can. I was determined to stay with her to the end, especially since my whole adult life I have been far from home in the foreign missions."
He continued: "I have to tell you, every day at mass, when I ask mom if she has any special intentions, she says, "for you, for God to keep you strong, and for your mission in Haiti."
But then, of course, came the earthquake. Fr. Rick could only watch the catastrophe from his mother's room in Massachusetts. He knew he had to go back.
"I told her I have to leave for a while," he wrote. "She said to me, 'you have to go. The problems there are worse than mine.'"
And now he has put out into even deeper waters.
This morning, he is back in Haiti, caring for those who have no one – and those who have nothing. I saw him on CNN last week, where he was interviewed about the work he is doing, the struggles he is facing, the obstacles he is trying to overcome. Many of those at the hospital are forced to work outside, in case there are further aftershocks. In solidarity, a medical team — members of a Passionist parish in North Carolina — left last week to go help Fr. Rick in Haiti.
And now they are putting out into the deep.
A friend of mine posted Fr. Rick's story on his blog and concluded, about us Catholic Christians: "It's what our kind do best."
That is our story, isn't it? The Church's great story, her great mission, is one of selfless love – that love that St. Paul wrote about in Corinthians, the love that we heard about last week. That love that bears all things, and that never fails. Love that goes into a burning building to rescue those trapped. Love that returns to a country permeated by the smell of death, to try and preserve life.
That love that gave everything on the cross.
And it is love that can only happen when we leave the shore, climb into the boat, and head to where the water is darkest, and the harbor is far from our sight.
A teacher of mine used to have a favorite saying: "A harbor is a great place for a boat, but it's not what it was built for." I think about that a lot in my own life.
We were built to be out there, with the waves and the water and the wind. We are meant to leave the shore.
And we are meant to listen for God's surprising, unexpected call — to throw our nets in another direction, to do what is counterintuitive. Simon Peter and the others did that and caught more than they needed to sustain themselves, and to keep their fishing business going. If we just listen, and obey God's call, we, too, can find what we need.
It takes tremendous trust, I know. But to help summon that trust, Luke's gospel offers us something that is often forgotten, a detail many overlook.
If you read over this account, look at where Jesus was.
After climbing into Simon's boat to preach, Jesus stayed there. He didn't get out. He told Simon to put out into the deep – and then he went with him on the journey. Remember this: God doesn't leave us to fend for ourselves. If the tide changes, or the boat tips over, He is there. No matter how deep the water, or how stormy the seas, He is there. He is going through what we are going through.
I have no doubt He is with Fr. Rick Frechette, and his medical team, and all those who today are the face of God to the suffering people of Haiti. That is why they have the courage to put out into the deep.
And that is why we should have it, too.
The sea may be wide. The water may be dark and deep. But do not be afraid.
Because we don't go out there alone.