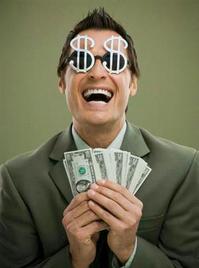 One of the things that has astonished me during my diaconate is how often people ask me the same question. It happens with remarkable consistency. They're almost always embarrassed to bring it up. And the answer seems to leave them surprised.
It happened again yesterday, when I appeared on Lino Rulli's "The Catholic Guy" radio show. A caller explained that he'd always wanted to bring this up to the deacon in his parish, but he was too embarrassed. So, with the anonymity of the airwaves, he asked me, almost sheepishly, "Do you get paid?"
I had to laugh.
For those who are still wondering: the answer is "No." I get a salary from my full time job at the NET. But I don't get paid for being a deacon in the parish.
Maybe some people are considering the vocation as a way to make a killing. Or maybe they're wondering about where their pastor is spending the second collection, or maybe they just see deacons lurking around the church so much and they just assume we must be getting overtime.
Again, no.
Deacons are not salaried. Unlike priests, we don't get a stipend for masses, weddings or funerals. At Christmas, the pastor might slip an envelope into my hand and thank me, but that's about it. As I told the caller yesterday, summoning the only cliche I could think of, "My reward will be great in heaven. But here? Not so much."
And now you know.