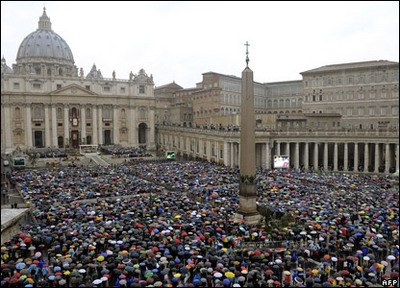 Benedict has what is probably the biggest pulpit in the world — and a lot of people reportedly got to see the pontiff in person:
The Prefecture of the Pontifical House released statistics today detailing the estimated numbers of faithful able to attend public events with the Pope in 2009. Estimates reach well over two million people just at the Papal residences.

Between events at the sites of Pope Benedict XVI's living quarters at the Vatican and Castel Gandolfo, he was seen by nearly 2,250,000 million people in the year 2009, the Holy See's Prefecture of the Pontifical House reported on Tuesday.

The final numbers were reached by combining the monthly attendance estimates for general and special audiences with the Pontiff, liturgical celebrations and the Sunday Angelus.

Benedict XVI was seen by almost exactly half of the total at the Sunday Angelus. The weekly event involves the Holy Father appearing in the window of the Vatican Palace to recite the Angelus prayer to Mary and greet the crowds that gather in St. Peter's Square.

The busiest months for the Pope were January and December, when he was visited by 180,000 people, while the "slowest" months were April and September, when there were "only" 8,000 privileged to be in his company.