For most of us, by this time, the new year is old hat.
We've gotten the hang of writing "2010" on our checks. We've taken down the Christmas lights and thrown out the fruitcake and added the name "Jenny Craig" to our vocabulary.
But in the gospel this Sunday, the newness hasn't worn off.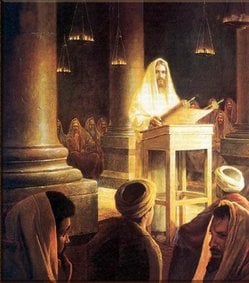 The reading from Luke is all about something new, something beginning. The scripture passage starts with a beginning – the first words of Luke's gospel. Then it jumps ahead, to the beginning of Christ's public ministry. Even that echoes another beginning, for it takes place where Jesus's life began — in Nazareth, the scene of the Annunciation.
And at this moment, Jesus offers another Annunciation, a prophecy fulfilled: glad tidings…freedom for captives…sight for the blind.
Something important is beginning
And so this morning, I wanted to talk about important beginnings — and tell you about two people in particular whose lives have suddenly and unexpectedly started over.
Both, in their ways, represent the start of something extraordinary – and remind us that God's creative work in the world is never finished. Or, to quote the book of Revelation, "Behold, I make all things new."
Certainly, that is true for Grant Desme.
Grant Desme is a 23-year-old minor league baseball player – in fact, one of the most promising athletes in the country. He was considered a star prospect for the Oakland A's. He was a figure of incredible talent and potential – he'd hit 31 home runs, stolen 40 bases. He thought, any day, to get the call from Oakland to join the majors and begin a stellar career – one that would likely reap him millions.
Well, he got a call. But it wasn't the one he expected.
Friday, Grant Desme told a stunned group of sportswriters that he was giving up baseball.
Instead, he was going to study for the priesthood.
"I love the game," he said. "But I aspire to higher things. I really had to get down to the bottom of things – what was good in my life, what I wanted to do with my life, and I felt that while baseball is a good thing and I love playing, I thought it was selfish of me to be doing that when I really felt that God was calling me more." He concluded: "It took me a while in my life to really trust and open up to it and aim full steam toward Him."
At a time when the world needs good priests more than it needs good baseball players, pray for Grant Desme. Pray for more men like him, especially in this Year for Priests.
Pray also for Emmanuel Buso. Emmanuel is not a priest or a seminarian. He's a student who lived near the presidential palace in Port au Prince Haiti when the earthquake struck. He was buried under the rubble, unable to move. For 10 days, he waited, and prayed, and dreamed. He dreamed he could hear his mother crying. He slipped in and out of consciousness. Finally, on the 10th day, defying all the odds, an Israeli rescue team discovered him and pulled him to safety. Emmanuel was dehydrated and weak, but he's expected to make a full recovery. Friday, he talked to reporters from his hospital bed.
"I am here," he whispered, "because God wants it."
In Grant Desme and Emmanuel Buso, you have two lives that have suddenly been changed – each, in his way, like Christ, announcing a new beginning. Here are glad tidings — good news of enduring faith, and boundless trust.
Emmanuel Buso's words say so much, for each of us: "I am here because God wants it."
Of course, his very name, Emmanuel, means that "God is with us." And that, too, perhaps, is part of his message – and part of Christ's message in this Sunday's gospel.
It is a message to all who are captive – whether trapped under rubble from an earthquake…or shackled by weakness and sin.
It is a message to all who are blind – whether it is because their world has collapsed around them…or because their vision has been clouded by darkness or fear.
God's faith in us, and His love for us, unlocks the shackles, and lets in the light.
God is with us.
Significantly, Luke begins his gospel by addressing it to "most excellent Theophilus," a Greek name that means "beloved of God." Whoever Theophilus may have been, it's clear that the gospel is addressed to all of us. We are all Theophilus. We are all "beloved of God."
No matter how weak, or wounded, or broken by sin.
I hope that we never forget that.
And I hope that we never forget Grant Desme and Emmanuel Buso, either.
The spirit that inspires a baseball player in California and a student in Haiti — THAT spirit endures. It's one reason why our Church has prevailed. The Holy Spirit, continues to guide us through every challenge and setback, every sudden reversal, every earthquake and aftershock.
The new year is getting older. We're three weeks into it. The Christmas trees have been dragged to the curb. The toys are sitting in their boxes, batteries burned out. It seems like a long stretch until spring.
But listen to St. Luke. And Grant Desme. And Emmanuel Buso. Hear the prophet's words proclaimed by Christ in the synagogue.
They all remind us that God's work is far from finished.
Indeed: it's just beginning
Because we are all Theophilus. We are all beloved by God.
And He is with us.