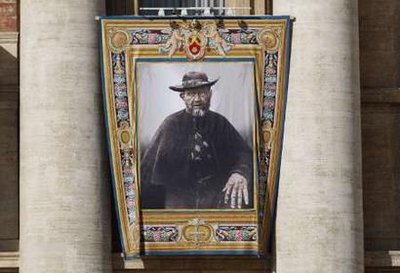 With a tapestry of the new saint fluttering outside St. Peter's Basilica, thousands crowded inside the church to watch Hawaii's most beloved citizen become a saint:
Pope Benedict XVI elevated Father Damien of Moloka'i to sainthood today, 120 years after his death from Hansen's disease in the Kalaupapa settlement.

At 10:30 a.m., the pope read a passage in Latin that officially adds Father Damien to the Canon of Saints in the Roman Catholic Church.

More than 550 Islanders made the 12,000-mile trek to Rome for the canonization of Hawai'i's first saint, which comes 120 years after Father Damien's death in Kalaupapa from Hansen's disease and follows a decades-long push to see the hero that the isolated Hansen's disease settlement gave the world recognized for his tremendous sacrifice.

The canonization was moved from St. Peter's Square to St. Peter's Basilica because of wet weather.

Sitting in the front row at St. Peter's Basilica facing the pope were 11 of the last remaining Hawai'i residents sent to Kalaupapa after being diagnosed with Hansen's disease when the state still imposed quarantine restrictions on those with the sickness.

Today, those patients are mostly in their 70s and 80s.

At the ceremony, many of them wept.

Kalaupapa resident Elroy Makia Malo said Father Damien is his hero.

"He caught the disease and he died," Malo said. "To have given his life for what he believed in. Oh, it makes me feel small."

The Rev. Christopher Keahi, the provincial superior for the
Congregation of the Sacred Hearts in the Islands, said the canonization
cause took lots of hard work — and prayer.
"It is just a miracle," he said.

The pontiff emerged into the piazza about 10 a.m., where an estimated
50,000 people braved a wintry Roman thunderstorm to see the
canonization of Father Damien and four others. Among the diplomats
seated near the pope were the royal couple of Belgium, where their
native son Father Damien is a national icon and beloved hero.

Also seated in a VIP section was 'Aiea resident Audrey Toguchi, whose
cure from an aggressive cancer after refusing medical treatment and
praying to Father Damien instead 11 years ago was the second miracle
attributed to the priest, assuring his elevation to sainthood.

Hanging on the fa'ade of St. Peter's Basilica were five huge tapestries
— one for each saint — that measured about 14 feet long and 12 feet
wide. The image used for Damien's tapestry is one of the most
well-known photos of the priest, taken near the end of his life, where
the tell-tale signs of Hansen's disease were evident on his face and
his hands.
St. Damien, pray for us…
Photo: by Reuters