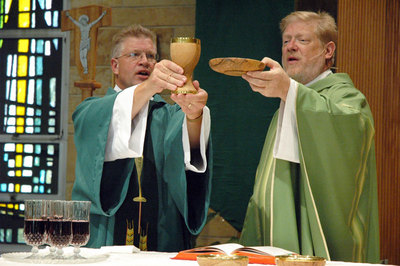 One year on, how are they doing?
The archdiocesan paper
takes a look:
A little more than one year after their landmark ordination, three members of the first class of permanent deacons in the history of the Archdiocese of Indianapolis are finding joy in their life and ministry.


Archbishop Daniel M. Buechlein ordained 25 men as permanent deacons on June 28, 2008, at SS. Peter and Paul Cathedral in Indianapolis.
Less than two months later, Deacon Ronald Stier of theRichmond Catholic Community died after a two-year struggle with pancreatic cancer.
But deacons Robert Decker, Timothy Heller and Michael Stratman, along with their 21 remaining classmates, are ministering in a broad variety of ways across central and southern Indiana. (Related story: Deacon candidates declare their commitment to continue formation)
Deacon Decker, 58, continues to serve as the parish life coordinator of St. Andrew the Apostle Parish in Indianapolis, a position he has held since 2004.
But he said he has spent more time since his ordination visiting the sick and homebound members of St. Andrew the Apostle Parish than he did prior to being ordained.
Deacon Decker attributes the change to the gratitude he has for his vocation and the fact that it is simply part of his identity, not just a task he does.
"Being a deacon is what we are," he said. "That's who we are. That's our essence. That's the gift that God has given me. That's what he has led me to."
Deacon Decker said the vocation of a permanent deacon is to be a living sign of Christ the servant and to be primarily a minister of charity.
Marcella Woods, 81, is a homebound member of St. Andrew Parish who Deacon Decker visits regularly. She said she enjoys seeing him.
"When he comes by here, he'll tell me who he has to go see," Woods said. "He has a little list in his pocket and pulls it out and says, 'I'm going out and seeing such and such a person.' "
Deacon Decker knows, however, that he has to balance the time that he dedicates to his diaconal ministry with the time he needs to give to his wife, Ann, and to their married children and their grandchildren. He said it is a balancing act that has had its "ups and downs."
His wife said that it was a challenge shortly after his ordination, but that they are both getting used to it.
"We still attend as many of them [family events] as we can as a couple," Ann Decker said. "But there are times when I have to go without Bob. But then I feel like I'm representing him and me. That was probably one of the bigger adjustments for me."


You can read more about the class at the link.
Photo: by Sean Gallagher