Maybe. Evidence is being gathered to promote the cause for a bishop from Sacramento.
Details, from Scripps Howard: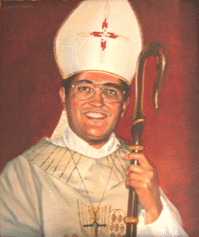 In October 2007, Sara Sevilla eagerly awaited the test results that could explain why suddenly she had lost her sight. But doctors could only describe the situation as a "phenomenon."


"They didn't give us any hope," said Sevilla, of Oxnard, Calif., who was 13 at the time. "They just said 'let's just take it a day at a time, and see if this medication works,' but they never said that I was going to get my eyesight back."


Nine months later, on the advice of her priest, Sevilla traveled to St. Mary's Cemetery in Sacramento to the grave of Bishop Alphonse Gallegos, of the Order of Augustinian Recollects. She wanted to ask for an intercession on his behalf to God.


After several minutes of prayer in front of Gallegos' tomb, Sevilla said she fainted and awoke surprised to see her mother.


It had worked. Her mother and grandparents broke into tears of joy.


"It changed me. I am a different person," said Sevilla, adding she's more grateful in life and feels like Gallegos is now a part of her.


It has been 18 years since the always smiling and optimistic Gallegos' death, but some say he still affects the lives of many, said the Rev. Eliseo Gonzalez, who also belongs to the Augustinian Recollects and lives in the St. Augustine Priory in Oxnard.


"He had love for children, the youth, and cherished education highly," Gonzalez said.


Throughout his life, Gallegos spent time working and uniting the community, including after the Watts riots in Los Angeles. He also worked with the United Farm Workers fighting for workers' rights.


While at the Christo Rey Church in Glendale and Santa Rosa Church in Sacramento, he spent much of his time speaking to youths who were in gangs and or had drug problems, Gonzalez said.


"That makes him a modern day saint," Gonzalez said. "Because he dealt with modern day issues."


Gonzalez has been working for almost two years along with the Rev. Jose Luis Gutierrez of Spain and others to get the Catholic Church to canonize Gallegos to sainthood. Gonzalez is known as a vice postulator of the cause because he is gathering the necessary documentation to present to the Congregation for the Causes of the Saints.


The process began in December 2005 when the Catholic Diocese of Sacramento initiated the process after the Order of Augustinian Recollects petitioned for it. Gallegos had served as bishop in Sacramento, but before that he served as a priest in Los Angeles.


Gonzalez got involved in the process by collecting testimony about Gallegos' heroic virtue from 130 people who knew him. The result was a 1,700-page report of testimony from people who were affected by the bishop.


Visit the link for more. And a website has even more information.