Doing an act of kindness can make you feel good about yourself, and a new study suggests it also benefits the brains of everyone living under one roof. Researchers from The University of Texas at Dallas report that teaching and practicing kindness at home improved parents' resilience and children's empathy.
Because both resilience and empathy use different cognitive skills, such as responding well to stressors or considering different perspectives, the researchers suggest kindness can improve a person's cognition.
The Children's Kindness Network is an online kindness training program that enrolled 38 mothers and their 3- to 5- year old children. The program included "Kind Minds With Moozie," with five modules featuring a digital cow who explained creative exercises parents can use with their kids to learn about kindness.
"We aim to encourage parents to engage in practical, brain-healthy interactions with their children that aid in a better understanding of one another, especially during times of stress," says Maria Johnson, MA, director of Youth & Family Innovations and coauthor of the study in a media release. "Research shows that kindness is a strong potentiator of vibrant social engagement, which is a critical component of overall brain health."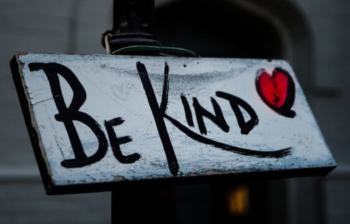 The team studied the impact of the program and children's empathy. Parents filled out a survey on their resilience and their kids' empathy before and after the training program. Results showed that parents reported being more resilient after the program, and preschool-aged children were more empathetic.
One surprising finding was that children's empathy levels were below average despite improvements after training. The team explains this is likely because of COVID-19 restrictions and lockdowns limiting children's social and emotional development.
"In times of stress, taking a moment to practice kindness for yourself and model it for your children can boost your resilience and improve your child's pro-social behaviors," says Julie Fratantoni, Ph.D. cognitive neuroscientist and head of operations for The BrainHealth Project. "Do not underestimate the power of kindness because it can ultimately change and shape brain health."
Identifying effective ways to reduce stress and increase resilience has become a mandate for people from a different life, age, professional, and socioeconomic backgrounds, especially among parents and their young children. Kindness is a familiar construct that goes beyond educational, psycho-social, and cultural boundaries; however, many current practices do not involve a curriculum explicitly devised for the implementation by parents of preschool-aged children.
The developing mind is instrumental in instilling solid neural pathways that promote resilience and empathic pro-social behavior. Kind Minds with Moozie resulted in a valuable tool to provide structured support and didactic instruction to assist parents in supporting and promoting child empathic pro-social behavior and proved to be helpful in support interventions for families exposed to adverse events and public health crises. Specifically, Kind Minds with Moozie could be used to plan interventions for caregivers (e.g., teachers and parents) to improve resources to cope with life stressors. You never know how your kindness can affect the next person. The findings are available to read in the journal Frontiers in Psychology.