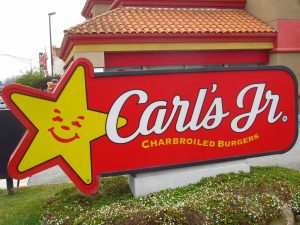 Carl's Jr. added something a bit special to its signature sauce.
This past April 20th, unofficially known as the holiday celebrating marijuana, Carl's Jr. developed a CBD-infused burger for one of it's Denver locations. In another nod to the marijuana holiday, the burger sold for $4.20.
This offer made Carl's Jr. the first national fast food chain to add CBD-infused food to its menu.
According to Alex McConnell, the Carl's Jr. district manager, the restaurant hosting the promotion "had a full parking lot (and) people waiting in the drive-thru" just before its 6:00 a.m. opening.
The company released a statement about their Rocky Mountain High burger, saying it featured "two 100% charbroiled beef patties paired with Carl's Jr. signature Santa Fe Sauce infused with hemp-based CBD oil, pickled jalapeños, pepper jack cheese and Crisscut® fries to give the burger the extra crunch – all between a premium bun."
Early news stories reported that the Carl's Jr. served over 1,000 burgers before it ran out, but later sources explained the restaurant actually sold 2,200 by closing. Regardless of how many were sold, this was a huge success for the store.
According to a Carl's Jr. statement in April, there is potential for CBD burgers in more locations "as regulations allow". The company was able to sell the burger due to Colorado's progressive stance on the marijuana industry.
Most products that contain CBD became legal in December when President Donald Trump signed the farm bill. However, chefs eager to cook with the ingredient have had some issues with the Food and Drug Administration, which prohibits adding CBD to food and beverages.
CBD is a non-psychoactive compound found in hemp and marijuana, and is said to possible treat anxiety, be a pain reliever, and help with other ailments. More research on these claims need to be conducted, however. In addition, the particular dosage is one that is up for debate.
Regardless, the Carl's Jr. burger is unlikely to get anyone high.