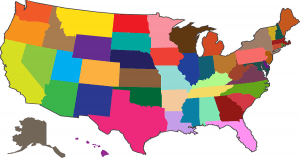 Which states are the friendliest for women? WalletHub decided to find out. The survey pulled information across what they identified as the 24 key indicators of living standards for women. Among these indicators were things such as highest median earnings, number of women in poverty, percentage of businesses owned by women and insurance rates among women. So, how did the states rank?
The Best
The most woman-friendly state, according to WalletHub, is none other than the State of 10,000 Lakes, snowy Minnesota. Minnesota was ranked first for "women's economic and social wellbeing" and third for "women's health and safety rank." The total score for the state was 79.34. The next highest state, Massachusetts, lagged noticeably behind Minnesota with a total score of 73.01.The top five states for women were rounded out by North Dakota, with a score of 70.27; the District of Columbia, with a total of 69.72; and New York, with a total score of 68.96.
The Worst
The lowest of the low was, unfortunately enough, found in the Bayou State. Lovely Louisiana is apparently not so lovely for women according to WalletHub. The Pelican State came in second to last when it came to economic and social factors and was ranked 48 out of 51 when it came to health and safety. Mississippi barely edged out Louisiana to take spot 50 instead of 51 with a score of 36.26 compared to Louisiana's 36.25. South Carolina did not do much better. The Palmetto State was the worst when it came to economic and social wellbeing and earned a total score of 36.44. Alabama and Arkansas completed the bottom five by earning scores of 39.99 and 37.56 respectively.
Economic Powerhouses
According to WalletHub, north is the way to go for women who want economic prosperity. Minnesota, North Dakota, Maine, the District of Columbia and Massachusetts were the top five states when it came to economic and social wellbeing. The lowest ranked states in this category were very similar to the overall worst ranked states. South Carolina, Louisiana, Mississippi, Idaho and Alabama were the bottom five in economic and social wellbeing.
Safest States
It is safety first in Massachusetts. The Bay State was the top ranked when it came to women's safety. Connecticut, however, was right behind Massachusetts. The top five were rounded out by Minnesota, Hawaii and New York. As for the lowest ranked states, the list once again mirrored the overall rankings. Arkansas took home the dubious title of most dangerous state for women, followed closely by Oklahoma, Mississippi, Louisiana and South Carolina.
The wellness of women is a topic of great interest to many. As such, it is interesting to see how the states stack up next to each other. As a general rule, though, it may be best for women to ditch the sun and grab a winter coat. It seems like the cold, snowy states are more welcoming for women, despite how many more women would prefer to be relaxing on a Carolina beach rather than battling Minnesota winters. It is just proof that there are trade-offs in everything.