There's a Tumblr blog about pretty much everything, and fathers aren't excluded. A few of my favorites:
My Dad is a Bro. (Nothing says parenting success like raising a kid you can shotgun Natty Light with.)
————
Dads on Vacation. (Because a dad's, ahem, coolness ought to be preserved photographically.)
————
Dads are the Original Hipsters. (I've linked to this one before, because it's both awesome and true.)
————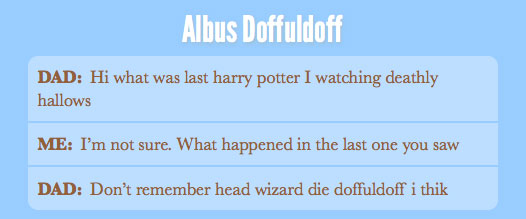 When Parents Text. (My own father is lots better at this, thankfully. As an architect, he designed with AutoCAD on a Mac Quadra when I was still in high school.)
————
What other parenting-related Tumblr blogs do you follow?