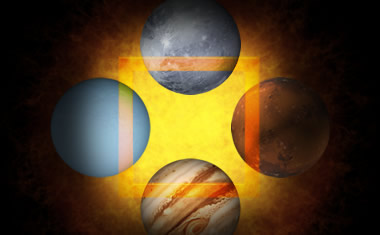 Here we go again! Today, April 21, 2014, marks the fifth exact Uranus-Pluto square in a series of seven stressful squares taking place from 2012-2015. But this time there's more!
This particular Uranus-Pluto square is part of a Cardinal Grand Cross, which is something you may be hearing a lot about in the media — and that's because this Grand Cross is the most powerful planetary pattern of the year!
This Grand Cross or Grand Square, whichever you prefer to call it, is an alignment between four heavy-duty planets: Mars, the planet of action and energy; Jupiter, the planet of expansion; Uranus, planet of surprises; and Pluto, planet of transformation.
Each of these planets is in a pushy, Cardinal (season-starting) sign, too, so what we end up with is a Cardinal Grand Cross that can create chaos born from the need to make change happen RIGHT NOW!
You'll feel this energy from April 20-23, 2014, but the affects will be life-changing and long-lasting. Read more about this powerful event at Tarot.com, and consider a calming Tarot reading to keep your balance during this stressful time. Good luck!
Get calming insight with a Free Tarot reading from Tarot.com!