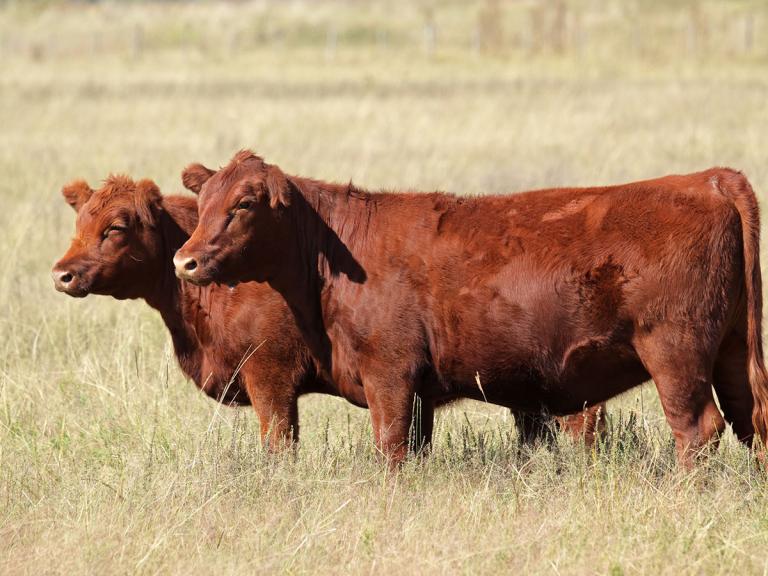 Five red heifers arrived at the Ben-Gurion Airport in Tel Aviv, Israel over a week ago. Such commonplace creatures such as heifers, even red ones, would normally not be considered newsworthy, but their color and destination link these heifers to Biblical prophecy, particularly to the creation of the Third Temple in Israel and, subsequently for Christians, the return of Jesus and the end of days. The story begins with a group called Boneh Israel, a group that has been specifically seeking out red heifers worldwide. The group states that "Boneh Israel" means "building up the Holy Land" and seeks to build up "quieter and unknow[n] Biblical and Archaeological sites in Israel" according to their Facebook page.
The finding of the five heifers is critical to their mission because of the heifers' connections to the rebuilding of the Temple. According to Biblical tradition and historical records, King Solomon built the first Temple in Jerusalem around 960 BC. However, in 587 BC, the Temple was completely destroyed by the invading Babylonians. About 70 years later after the Babylonians were defeated by the Persians, Cyrus the King of Persia allowed some Israelites to return to Jerusalem and rebuild the Temple, thus the creation of the Second Temple. The second Temple stood for many centuries afterwards, through numerous conquerings and pillagings into Jesus's day. Jesus would foretell the complete destruction of the Second Temple in Mark 13. His words would come to pass in 70 AD when the Romans destroyed the Temple.
The belief that there will be a Third Temple comes from Matthew 24 when Jesus refers to, "And this gospel of the kingdom shall be preached in all the world for a witness unto all nations; and then shall the end come. When ye therefore shall see the abomination of desolation, spoken of by Daniel the prophet, stand in the holy place, (whoso readeth, let him understand:) Then let them which be in Judaea flee into the mountains…" Jesus seemed to be asserting that the Temple would be rebuilt and that a pretender, "the abomination of desolation," would present himself at the Temple. This pretender, or antichrist would be the predecessor to Jesus's imminent return and the final judgment, as according to the book of Revelation.
All Israel News noted that the red heifers are significant because Numbers 19 requires the ashes of unblemished red heifers for purification. According to the site, the red heifers mean for Jews that "redemption is now possible." Byron Stinson, an international fundraiser and advisor for Boneh Israel was the one to locate the heifers. When asked about why he, as a Christian and American, took so much interest in Israel, Stinson told Israel 365, "We are not just Christian as a nation. It is Judeo-Christian. I believe that there is a bloodline for many Christians that calls us by the Spirit to be part of this land. I believe I am one and these people who are called to this, their hearts make them come."
The building of The Third Temple would be a much more difficult milestone to achieve. The Temple Mount in Jerusalem is one of the most disputed pieces of land in Israel, with Jews, Christians, and Muslims attributing spiritual significance to it. After the Six Day War in 1967, Muslims have had authority over the Temple Mount as a gesture of peace in ending the war. Thus, although Jews and Christians are allowed to visit the site, only Muslims are allowed to openly worship there. However, there have been various conjectures on how to build the Third Temple without shattering the already unstable peace at the Temple Mount, including pitching a tent or tabernacle or even rebuilding the Temple at the Gihon Spring, an undisputed piece of land that some claim was the original spot of the First Temple. Regardless of whether the heifers are a sign of the end times, the Christian can rest assured in Jesus's words in Revelation 22:12 where he says, "And, behold, I come quickly; and my reward is with me, to give every man according as his work shall be." To which the answer will reflect verse 20: "Even so, come, Lord Jesus."