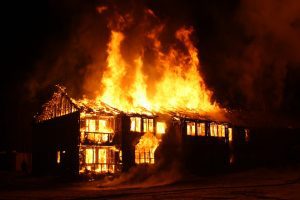 Despite losing her belongings in a fire on Tuesday, a Tennessee woman is still praising God. The fire happened at an apartment complex in Hendersonville near the Nashville area. The fire department arrived at the complex around 5p.m. Four units had to be evacuated due to smoke and fire damage with six other units having power cut off to them so that the source of the fire could be investigated. Two firefighters were treated for heat-related injuries but no other injuries were reported amongst the residents. Two pets were unfortunately killed. "It's emotional. It's emotional for staff, for us, it's emotional for these folks to see that. Obviously they're concerned about their personal belongings," said Fire Chief Scotty Bush when discussing the fire at a press conference.
Despite the loss of their homes, one of the residents praised God in an interview with WKRN. Sharon Layne, a self-described "strong woman of faith in Christ Jesus," described an experience that she recalled as a "miracle." Layne had recently lost her husband of thirty years and a Bible of his was one of the items left in her apartment, along with her own Bible and a Bible from her recently deceased mother. Layne stated the firefighters went into her apartment to look for the Bibles. They were able to find all three of them and brought them back to the Tennessee woman. When asked in her interview who she thought protected the Bible, she said, "I know Jesus did." The woman was deeply touched by the efforts of the firefighters who helped her. She also noted the remarks that one firefighter made about the condition of the Bibles. In a scene reminiscent of the book of Daniel's Shadrach, Meshach, and Abednego, the firefighter noted to Layne, "Do you notice how the outside's burned… But the inside, all of your pages, there's nothing burned or singed on your Bible."
Layne believed it was a miracle and despite her losses, she said in her interview, "I believe in miracles, and I'm really blessed. I'm so grateful that nobody was injured. And I trust God that, even though we lost everything, that I know that He's faithful." Her remarks highlighted a Christian faith that she will greatly need during this trying time. The source of the fire remains under investigation. The Red Cross is currently aiding the ten displaced families.