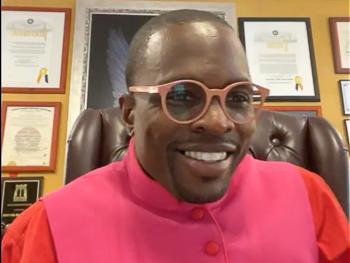 Sunday services took a frightening turn at Leaders of Tomorrow International Ministries this last Sunday when three armed thieves robbed Bishop Lamor Whitehead in the middle of his sermon. The incident, which was caught on camera during the church's livestream, shows the men entering around 11:15 am. Whitehead can then be seen laying on the ground saying, "Yo, all right, all right, all right." The three men, dressed in black and armed with guns, stole jewelry from the bishop and his wife before taking off in a Mercedes-Benz. Whitehead stated he chased the men on foot and in his car.
Whitehead took to Instagram to blast the three men. "That's not gangster. That's a layup, like, 'Oh, I robbed a church.' You don't get no points for that," he said. He chastised the robbers for traumatizing the congregation but did offer his forgiveness as well. "I forgive you and I'm praying for you, and I hope that God will deliver you from the mindset of who you are at this time,"
The bishop also stated that he believed he was targeted due to his recent involvement in turning in the shooter of Daniel Enriquez, a Goldman Sachs researcher who was fatally shot on a New York subway May of this year. "I turned him in, but the media called me 'the bling, bling bishop.' They had my Rolls-Royce car all over everywhere and I feel that that played a part in this," said Whitehead. Whitehead also defended himself from criticisms against his flashy lifestyle saying, "It's not about me being flashy. It's about me purchasing what I want to purchase. It's my prerogative to purchase what I want to purchase. If I worked hard for it, I can purchase what I want to purchase." He also exploded during a Facebook Live interview with Larry Reid and Genesis Warren. The two joked about the situation being like something from the popular Tyler Perry films when Whitehead joined the interview and defended himself. Rapper 50 Cent, whom Whitehead has said he led to Christ, also criticized the bishop's flashiness in an Instagram post. The bishop has also been criticized due to the 5-year sentence he served for identity theft and larceny charges. Whitehead states he was wrongfully convicted.
A spokesperson for NYC mayor, Eric Adams, whom Whitehead refers to as a mentor, released a statement saying, "No one in this city should be the victim of armed robbery, let alone our faith leaders and congregants worshiping in a House of God. The NYPD is investigating this crime and will work tirelessly to bring the criminals involved to justice." At this time, no arrests have been made although the cops do have a license plate. It is estimated the robbers took off with reports saying anywhere from $400,000 to $1 million in jewelry.