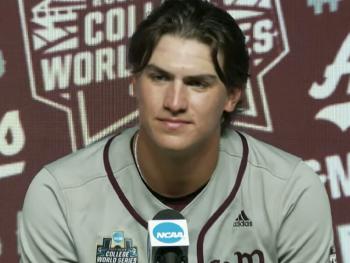 Things looked bleak for Texas A&M's pitcher Nathan Dettmer on June 17th, after a tough 13-8 loss to the Oklahoma University Sooners. A college sophomore, Dettmer had started the game and given up 7 runs, getting himself pulled from the game in the second inning. Depressed and in tears, Dettmer found himself in a very dark place as he mulled over the loss that Friday night. Thankfully, a fellow pitcher on the team, Micah Dallas, texted encouragement to the player. "He texted me that from one game, it doesn't define me. It doesn't define me as a person. And baseball doesn't really define me as a person," he told reporters at a press conference this last Tuesday.
After the crushing defeat, Dettmer would go on to be the starting pitcher just a few days later on the 21st in a playoff game against Notre Dame. He would pitch through 7 shutout innings against Notre Dame, with Texas A&M ultimately winning the game 5-1 and eliminating the Fighting Irish from the playoffs while advancing themselves into the next round of the playoffs. During Tuesday's postgame conference, Dettmer not only revealed his friend's encouragement but openly praised God. "All my worth is through God. I just prayed to Him [Friday] night. And He just told me that that's not my story. He's got a plan for me and that one game wasn't it. I just have to trust in His plan," he said.
Dettmer also posted a picture on his Instagram account after the win against Notre Dame. The player could be seen pointing skyward with Proverbs 3:5 as the caption. "Trust in the Lord with all your heart; do not depend on your own understanding," Dettmer posted. "I knew He had a plan for me and had success today, and it was awesome," said Dettmer during the conference. Although the Aggies were unable to beat Oklahoma University in a rematch on Friday, losing 5-1, if Dettmer sticks to his belief in God's plan for him, it can be imagined there will be further successes for him in the future.