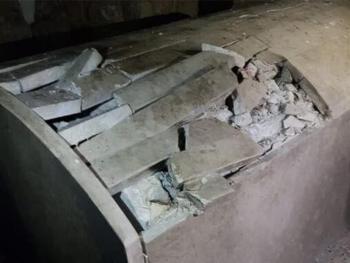 Israel's Prime Minister Naftali Bennett has condemned the rioters that are setting fire and destroying the holy site Joseph's Tomb. The violence came amid growing tensions between Palestinians and IDF soldiers in the nearby area.
"During the night, Palestinians destroyed Joseph's Tomb. Dozens of Palestinian rioters in a campaign of destruction simply violated a holy place for us, the Jews." Said Bennett at the beginning of a cabinet meeting.
The damage the rioters have caused is undoubtedly irreparable and horrific to citizens.
The Tomb has played a flashpoint for violence over the years as many argue about who is buried in the Tomb. Muslims believe a Shiekh is buried there, while the Jewish and Christians believe the biblical Joseph is buried in the Tomb. Joseph was buried in the biblical town of Shechem. The burial site is near the present-day city of Nablus.
The Israelian army must escort Jewish worshippers to the site many times throughout the year because Palestinians have attacked visitors in the past. The Israeli Defence Forces bar any Israeli citizens from entering the area without prior authorization since visitors need to be escorted to the area.
The visits to the Tomb are only permitted once a month by the IDF. The Palestinians show violence during these visits, throwing rocks and Molotov cocktails at the troops. Tensions rise, and sometimes the Palestinians even emit gunfire at groups who are simply just trying to visit the shrine and pay respects. The IDF has responded to these attacks with riot control methods such as tear gas and rubber bullets. Injuries and fatalities have resulted from these clashes in the past.
Video footage captured the rioters heading to the Tomb for more destruction.
#شاهد انطلاق مسيرة غاضبة في مخيم بلاطة بــ #نابلس، تجاه قبر يوسف، نصرة لـ #جنين. pic.twitter.com/4Ypi9meih7

— Newpress | نيو برس (@NewpressPs) April 9, 2022
Joseph's Tomb was under Israeli control until the army evacuated the premises in 2000. Palestinians torched the Tomb and burnt it down, but it was renovated and restored. The Tomb continues to face harsh vandalism throughout history. Now the Tomb lies under the control of the Palestinian Authority.
The Prime Minister has also stated that Israel will work swiftly to restore the site to its original condition and that all "necessary measures" will be taken to prevent further attacks on the Tomb.
The attack is especially devastating for worshippers as it occurred during the holy month. Many feel it was a direct attack on the heart of the people. Foreign Minister Yair Lapid has stated that "we will bring the perpetrators to justice and repair Joseph's Tomb." Lapid also urged everyone to "promote calm and quiet" as the violence has already caused enough damage.
Hopefully, the local councils will be able to restore the shrine back to its' original appearance. However, the recent damage shows the violence at the Tomb is likely far from over.