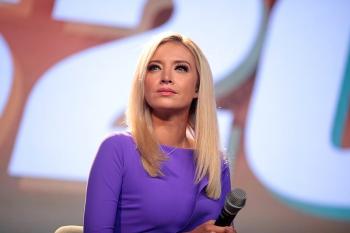 Kayleigh McEnany, President Trump's White House Press Secretary, is proud of her job. However, she is giving all the credit for her success in her journalism career to God.
In an interview with Fox News, McEnany said "God had a clear and definite plan for my life, and He put me on this journey in media and politics for a reason. I knew that God put me in this position, at this moment in time, for a reason."
"I recall both a former Democrat colleague at CNN as well as my dad telling me you come into your position 'for such a time as this' – words from the book of Esther, a book that my hometown church ironically did a series on during my time here at the White House."
When McEnany landed the position, she felt it was her duty to perform well in order to serve the Lord.
"I tell you this to emphasize I approached this position with a sense of responsibility to live up to the task God had planned for me…Know you can overcome through faith and that God has a path for you if you trust Him and follow it."
McEnany was raised as a Southern Baptist and attended a Florida Catholic all-girls school as a child, so her roots in Christianity are strong.
Despite her unwavering faith in her own divine appointment, McEnany has had a tense relationship with the American media this year. She has been heckled by reporters in press briefings as of late, because Donald Trump has yet to concede to the election results.